Language
The Montessori classroom is designed in such a way that all activities gear themselves naturally toward the development of the skills required for oral and written language and reading. Language development is also encouraged in the classroom because of the freedom of conversation allowed to the children. In the Montessori environment encouragement of self expression is fostered through communication between children and their peers and children and adults.
In the Language area of the environment, vocabulary is enriched in a number of ways. Precise names are used for all of the objects and apparatus. Vocabulary classification and matching exercises develop visual perception, enrich vocabulary development, and develop the left to right movement.
A child will continue to progress at their own pace through the reading program. Concrete concepts lead to abstract ones. A child in the Montessori classroom develops a sense of wonder at his own powers and this wonder becomes a motivating force toward further acquisitions.
I am going to take you through the steps of the reading program I put together. It is based on the California Phonetic Reading Program along with a mix of other reading programs that can be found in a Montessori School. I hope it can be helpful for teachers as well as homeschoolers. I began to make my reading boxes with pictures I acquired from my Montessori training in San Diego, California. At this time they were black and white pictures that we colored - each one! Today you can purchase many reading program pictures from various web-sites to begin building your reading program, without the step of coloring every picture. My reading program is on the older side but still very effective!
Books! Books! Books!
Always have a variety of beautiful books available for children to have access to as well as reading many books to them. It is important to develop a love of reading in children. A small library is vital in the classroom for the children to go and explore books. A small section on the classroom library can be seen in Week 1 of the Curriculum section. I like to go to my own local library and change out the books regularly. Children can learn new vocabualry words that you highlight in the books and story discussions can help with reading comprehension. I feel it is a good tine to talk about fiction and non-fiction stories. Children are exposed to so many things today, I think it is important to help them begin understand what is real and what is not at an early age. I always let them know if a book we are reading is fictional story and why this is so.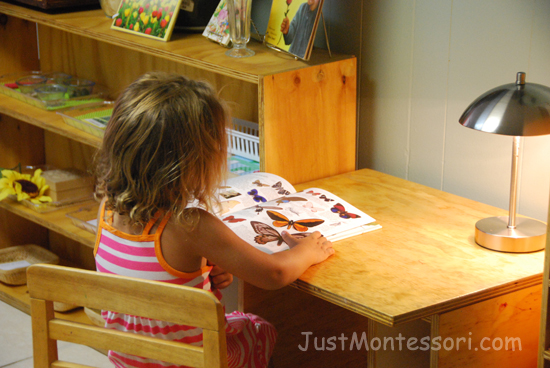 Books
Stories on CD - Provide a space for children to go and listen to a story. With an older group, I placed a basket of book choices with the CD placed taped inside the book cover in the cd holder. You know your children, if this is too much for them to change out the CDs, have one ready each day in the player. You can place a sticker on the play button so children can independently play the CD.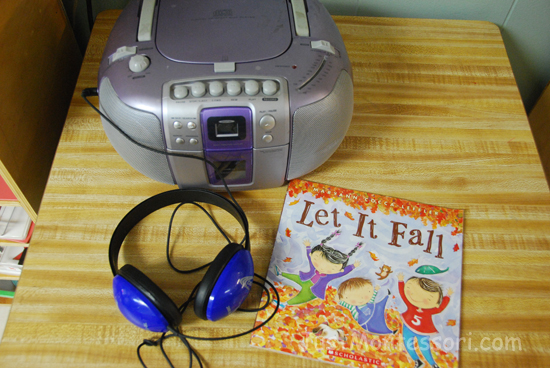 Story on CD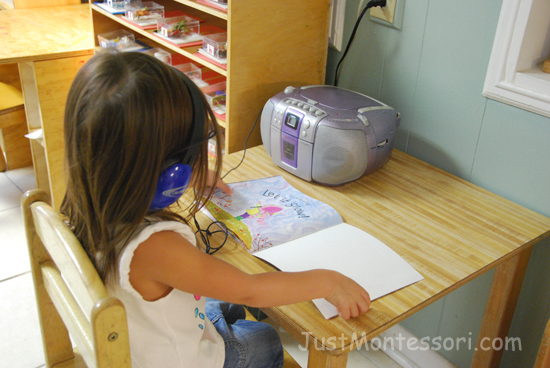 Story on CD
Books on the Shelf - I like to provide books and poems with props that the children can use to reinact the story and poem. I make many of my own and others I found through internet resources. These will often relate to the unit studies for the month.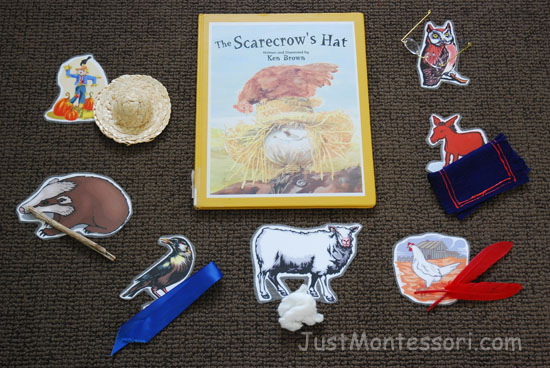 Book on the Shelf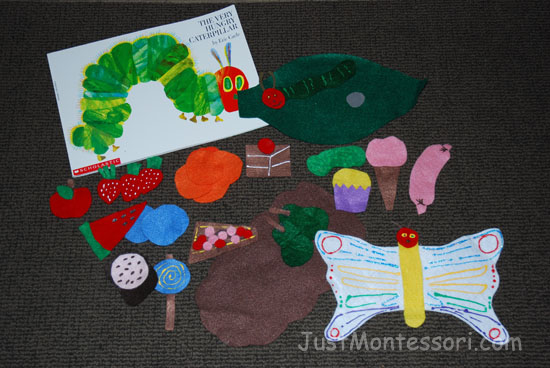 Book on the Shelf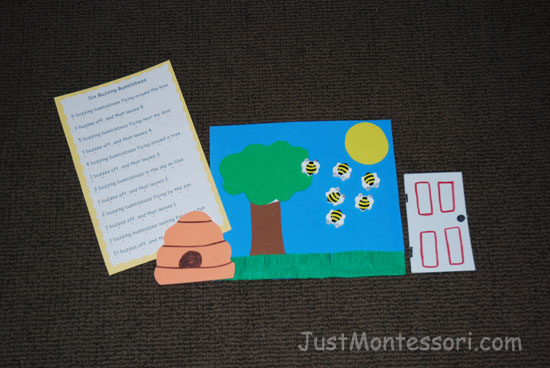 Poem, "Six Buzzing Bumlebees"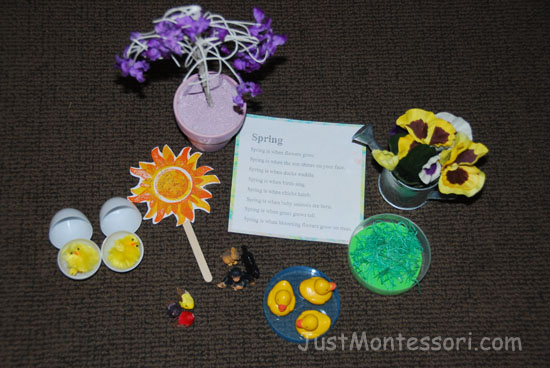 Poem, "Spring"
Special Reading Day - To celebrate reading, I like to have the children participate in Read Across America. This is a special day in which children in schools across America participate in different ways. It corresponds with the birthday of Dr Seuss, so it falls around March 2nd each year. The children may choose a book and dress up as the main character in the story. It is so much fun. We talk about who we are, read books all day, have special snacks, and talk about how wonderful reading is! We also talk about Dr Seuss of course. A blog about one of our Read Across America Days can be seen in the blog section under March 2012. I will make a special gift bag for each child for their participation. Here is just a small sample...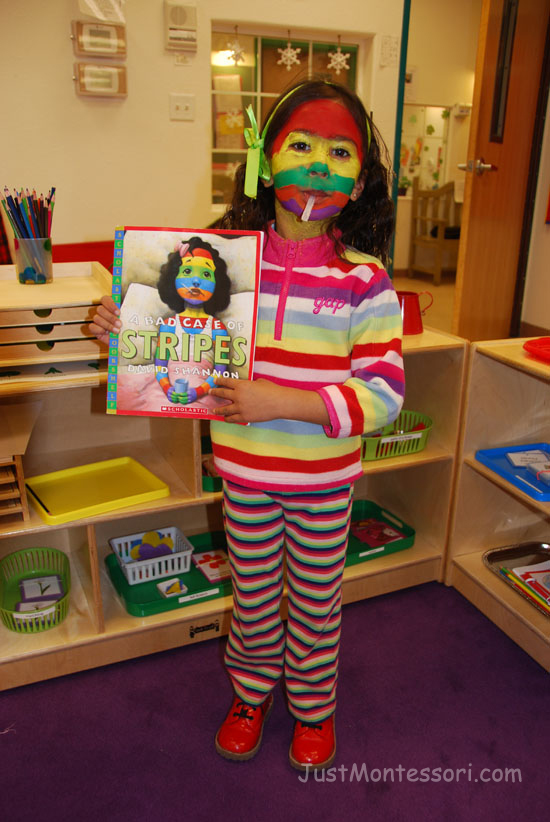 Read Across America Day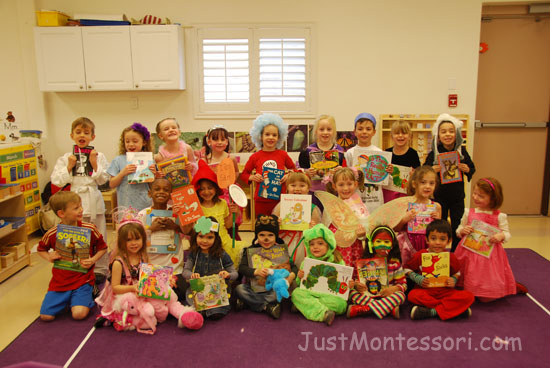 Read Across America Day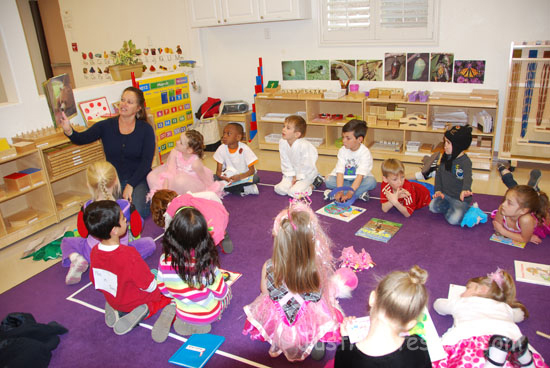 Read Across America Day
Additional Language Fun - Circle Time can be used for many language experiences. Daily calendar, lessons, stories, songs, poems, plays, instruments, movement, etc. Allow children to have a turn to talk. I say to each of them, "What would you like to tell us today?" Then we all have to be 'polite listeners' for our friend who is talking. Have fun and make the most of circle time! I will often make props that we use during songs or poems. I like to do a Spring Play and a Winter one. Play for Spring can be seen in the blog section 2012 - May under "The Seed Story." International Children's Day can be found in the blog section as well. Many other Circle Time activites can be found in 2011- 2012 school year blog section. During the recent school year, some can be found, but not as many as I just haven't been able to take too many pictures of circle time yet.
Pre-Reading Skill Exercises
Picture Matching Exercises - These are sets of cards having pairs of various pictures or shapes for the children to match. The purpose of these matching cards is to develop visual perception. Children also develop a sense of left to right movement, which indirectly prepares them for reading. I change this work so the matching cards can be varied to provide interest and often they correspond with unit study lessons.
Matching Cards
Sequence Cards
Opposite Cards
Category Cards

Go-Together Cards
Rhyming Cards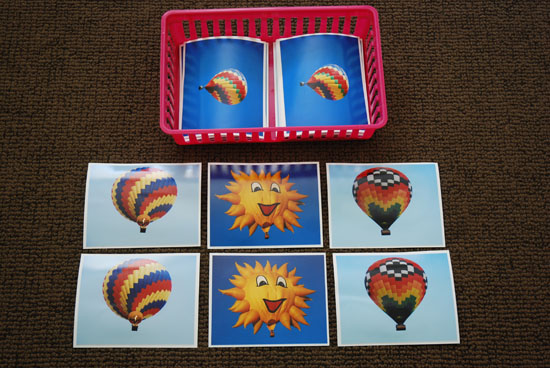 Matching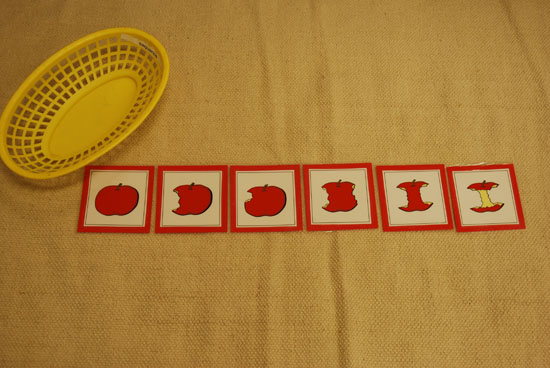 Sequence Cards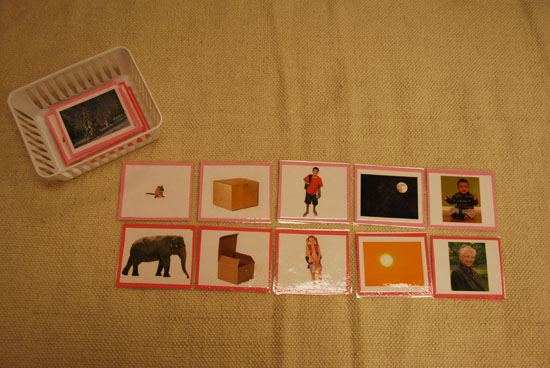 Opposite Cards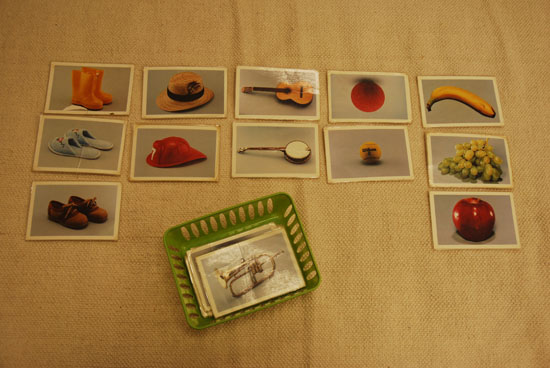 Category Cards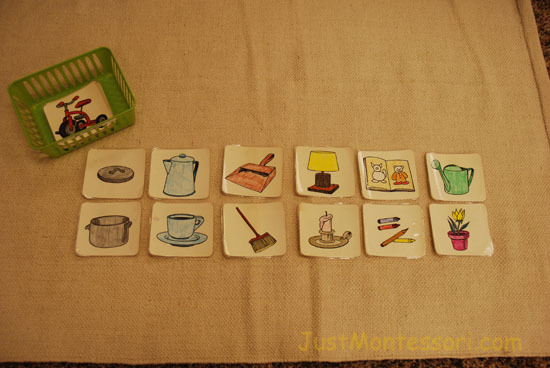 Go-Together Cards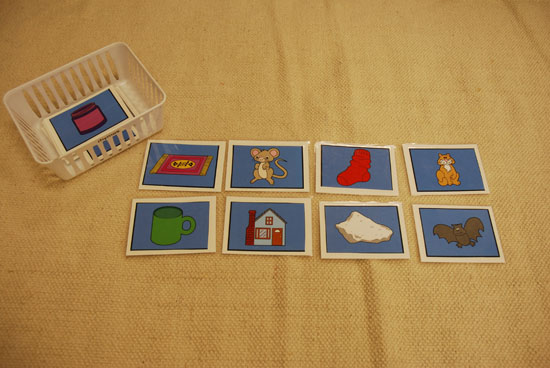 Rhyming Cards
Vocabulary Cards - These are a set of cards having pictures of an object. Each object has three cards: a control card which has the name of the object printed beneath the picture, an identical picture, and a smaller card with the name of the object. This are often called three-part matching cards in a Montessori classroom. Vocabulary cards enlarge and enrich a child's vocabulary, develop the skill of classification, and prepare children for reading.
Attribute Boards - These I made using stickers and graphic tape.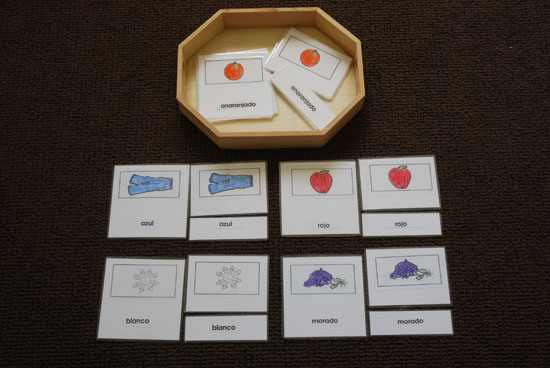 Vocabulary Cards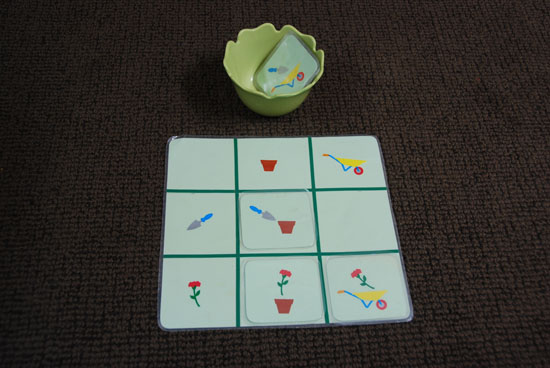 Attribute Board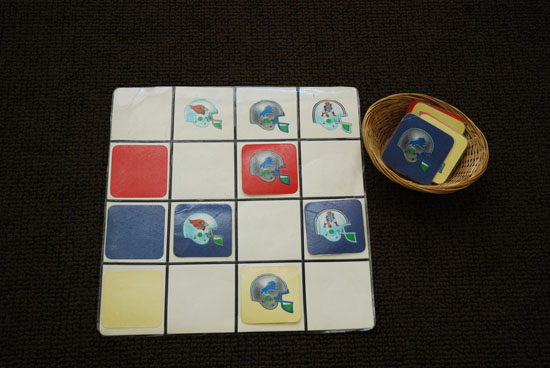 Attribute Board
Sandpaper Letters - Sandpaper letters are so important in helping children to learn their letter sounds. They get both a visual and a tactile experience. Because the letters are made of sandpaper children can 'feel' the letters. Focus is on lower case letters and the sounds that they make. This makes so much sense, because if you think about reading, it is phonetic, and lower case letters are what words are mostly composed of. Capital letters will come later in the program.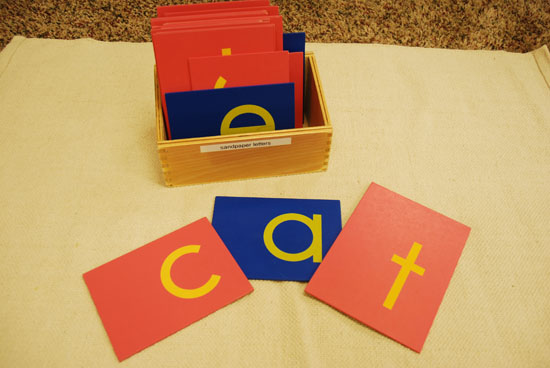 Sandpaper Letters
---
A homeschooling idea you can try, is to make a set of sandpaper letters.
I made a set for my children and they worked out great! I still have them
after 20 years! Below is a picture of them next to a set of Montessori
sandpaper letters.
---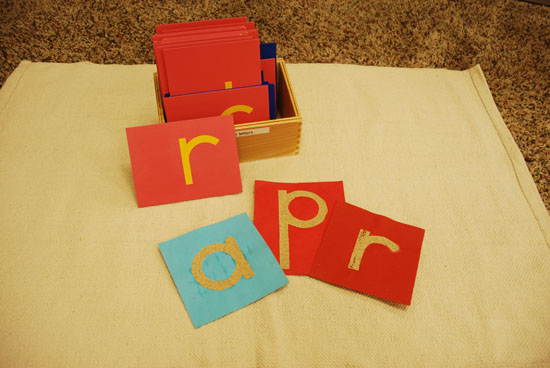 Homemade set of sandpaper letters
Be sure to make the vowels a different color than the consonants. Red and blue are standard colors for sandpaper letters.
Sound Table - Children are taught letter sounds at what is called a sound table. Each child has a small book of alphabet letters called a sound book. Letters are taught in the following sequence: (However, I have seen them taught in a different sequential order at different schools).
a, m, b, t, c
f, n, e, p, w
l, g, i, k, d
o, x, u, s, h
j, r, q, v, y, z
Sit with the child and as you go through their book, the child tells you the sound of the letter shown on the page. When two are reached that the child doesn't know, a three-period lesson is given on those two letters. A three-period lesson has basically three steps; naming the sound, then asking the child to show you a certain sound, and asking the child, "What does this say?"
Sound Table
Show the child the letter 'c' and tell them, This says 'c' (sound)." Show them objects that start with the 'c' sound. Next show them pictures that begin with the 'c' sound. Trace a 'c' into the coffee tray. The Child then traces over the letter made, and can then make one themselves. Remove all 'c' things and repeat with 'a' things. Follow up with the three period lesson using only the 'c' and 'a' sandpaper letters. You can make check marks or other notes directly on the child's book to keep track of the sounds they recognize and those you introduced. I use a pencil and write in the upper right hand corner so it doesn't distract from the letter.
Additional Works - These are some additional papers that the child can do related to the letter sounds they had a lesson on. I've also seen other teachers make small cards into necklaces, with individual letters on them. On the back of the card, it asks for the child to bring the necklace back to school with three objects form home that start with the letter on their necklace.
Zoo Phonics - This is a set of animal pictures that I use at circle time and make them available for the children to color. They are very effective and fun for the children. For each letter you act out how the animal is represented while you say a little line for each one. An example would be "a' "a" "Allie Alligator," said while you extend arms foward one over the other to form an alligator mouth, with fingers becoming the teeth. The children really enjoy these characters and you will hear them saying their sounds as they go about their day!
Letters to Trace and Color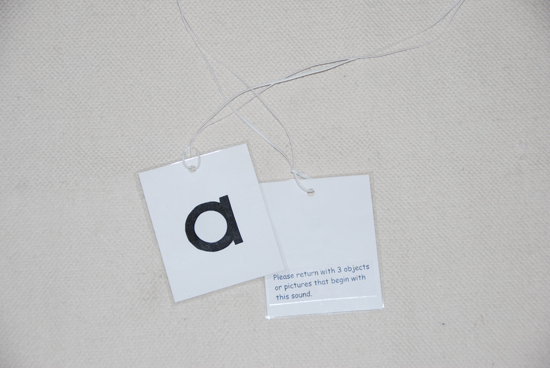 Letter Sound Necklaces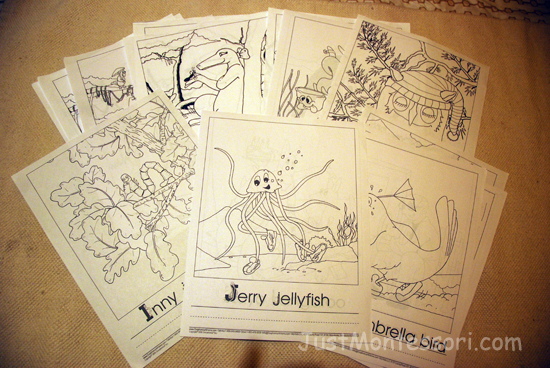 Zoo Phonics Coloring Pages
Metal Insets - Ten metal frames in red and ten corresponding metal insets in blue representing the following plane figures: circle,ellipse, curvilinear triangle, square, rectangle, triangle, oval, quatrefoil, pentagon, and trapezoid. These are designed to contribute to the development of the mechanical writing skills and are used simultaneously with the introduction of sandpaper letters. Children are taught various ways in which insets can be traced: tracing the frame only, tracing the inset only, making overlays, and designs. All exercises help to develop free wrist movement, develop control of a pencil, firmness and lightness of touch in preparation for writing, and develops appreciation of design.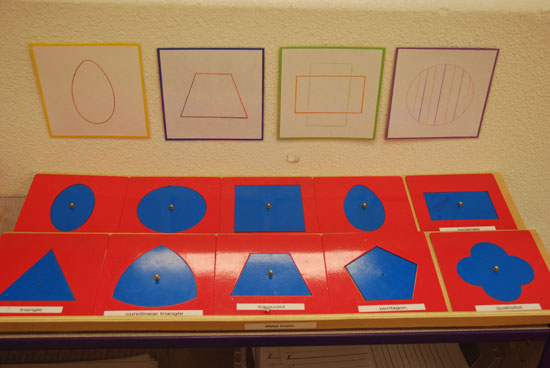 Metal Insets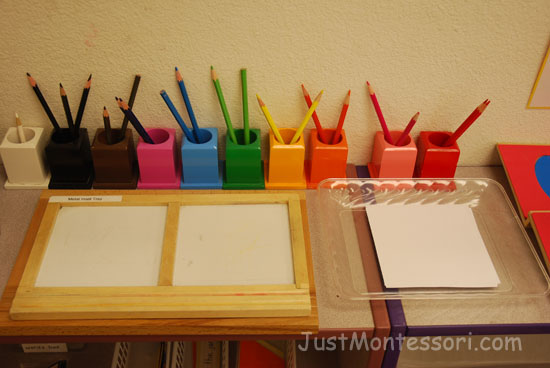 Metal Inset Trays, Paper, and Pencils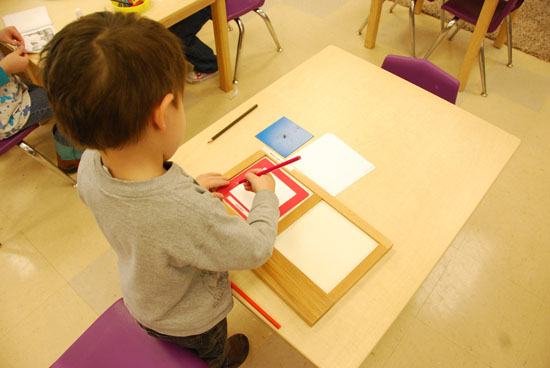 Metal Insets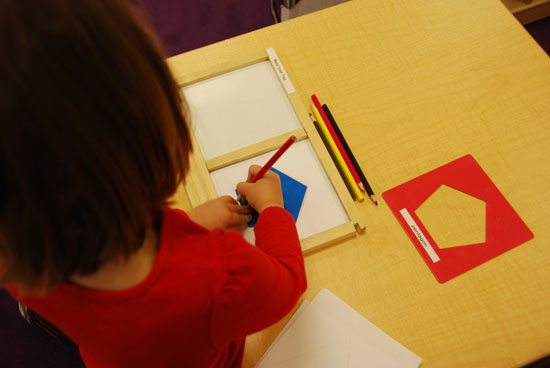 Metal Insets
Line Tracing - These are cards with a variety of lines children can trace with tracing paper for additional pencil skills.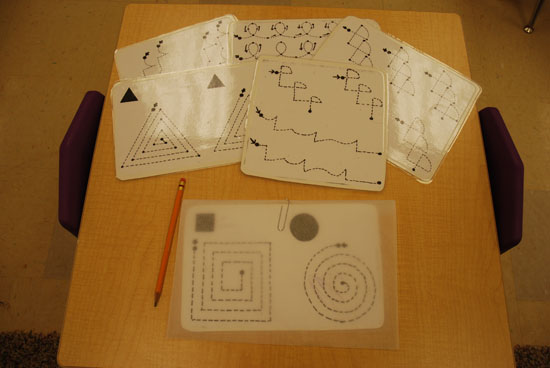 Line Tracing
Writing - As the children go through the reading program it is important that they write down the words or letters they've worked with. Provide a writing station with paper; lined and unlined, pencils, markers, envelopes, etc. for children to make books, cards, invitatons, letters, etc. Older children can begin to write in a daily journal. I also make an alphabet book for handwriting practice. Another great resource is called Retrain the Brain. This is a handwriting program in which music is played while the children make circles, loops, lines etc.on lined paper.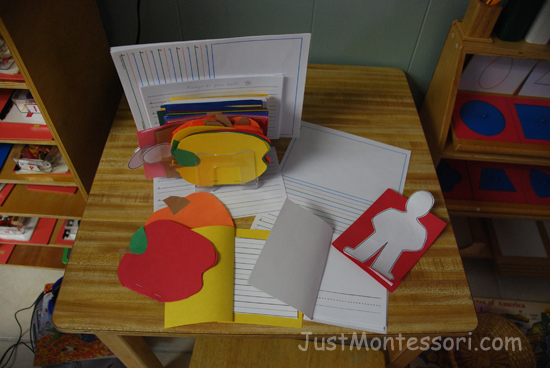 Writing Station Materials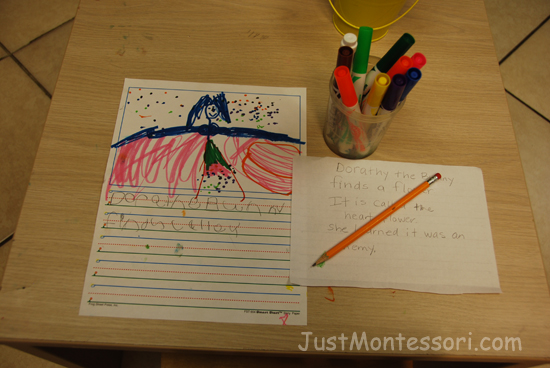 Picture Story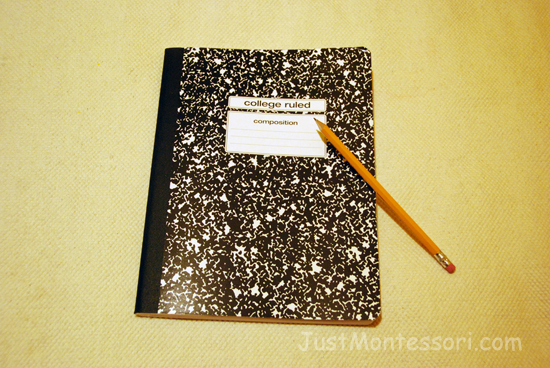 Journal Wrting
Reading Cards - These are sets of cards that I make that correspond with the reading program. Each child has a card as they progress through the program. The card is marked off per box as children go through the program and move on to the next card.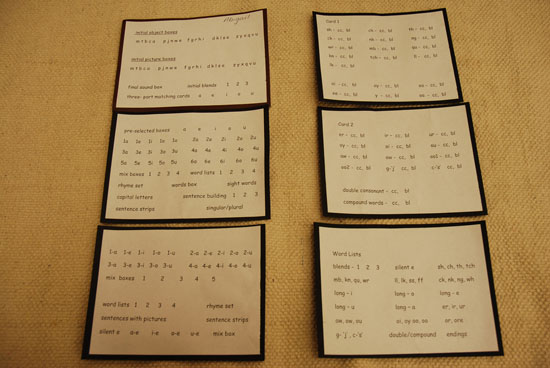 '
Reading Cards (record of progress in the program)
Initial Sound Boxes - In each set of boxes are objects that start with the letters that are also in the box. The child lays out the letters across their mat and places objects under the letter sound that they started with.
Initial Sound Boxes - These boxes are the same as the object initial sound boxes above, but now have pictures to match to the letter sounds.
Final Sound Box - This box has pictures and letters inside. The child now listens for the final sound of the pictures and matches it to the letter.
Blends - These are a set I bought from Montessori Services many years ago. I like them because it helps the children to hear the two consonant sounds together. There are three boxes: sn,sw,sp,sk,st / tr,br,gr,cr, / gl,sl,pl,fl,cl.
Vocabulary Cards - These are an older set from Montessori Matters. It is a three-part matching work. Children take a folder match the cards and write down the words.
Blending - Blending can begin once a child knows most of the letters in each letter grouping, as shown in the above Sound Table lesson which shows the sequence of the letters to be taught. Take the sandpaper letters and form words like cat, mat, mop, etc. The children are saying the sounds and these sounds blend together and the child is able to hear and see the letters form to make words. Child may write the words they 'read' and take them home.
Pre-selected Boxes - There are five of these boxes; one for each vowel. The boxes have objects and the letters needed to form the object names inside each box. Children lay out the objects across their mat and places the letters, stacking repeats, on the bottom right corner of their mat. They can then begin to form the words with letters provided. I always have children write their words. Small books are available, some with lined paper and some without. Each book has six pages as the boxes have six objects or pictures each.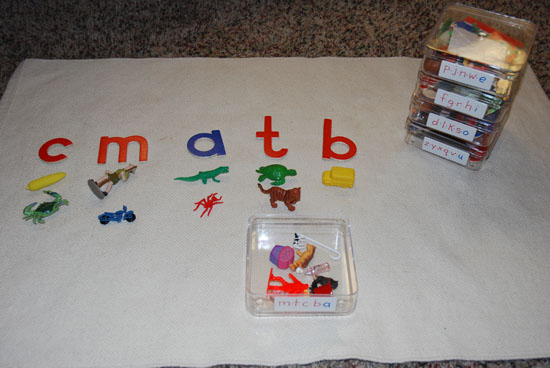 Initial Sound Boxes - Objects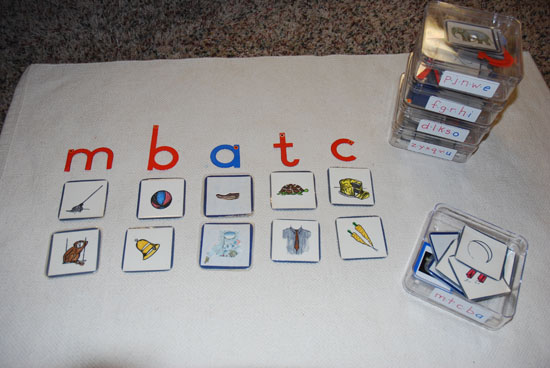 Initial Sound Boxes - Pictures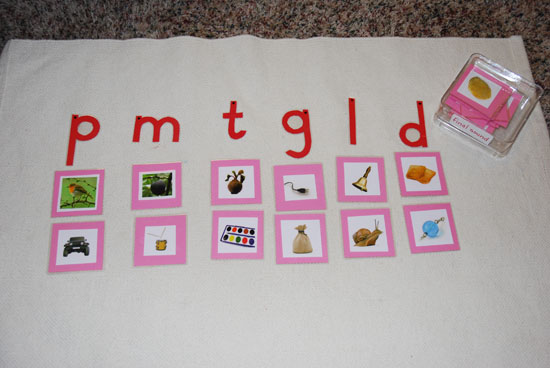 Final Sound Box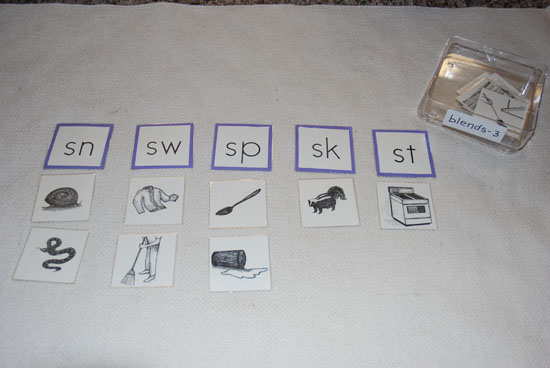 Blends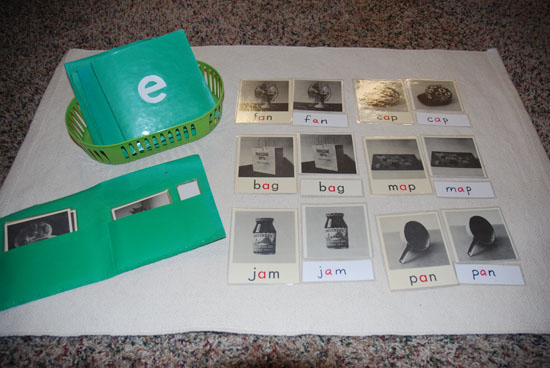 Vocabulary Cards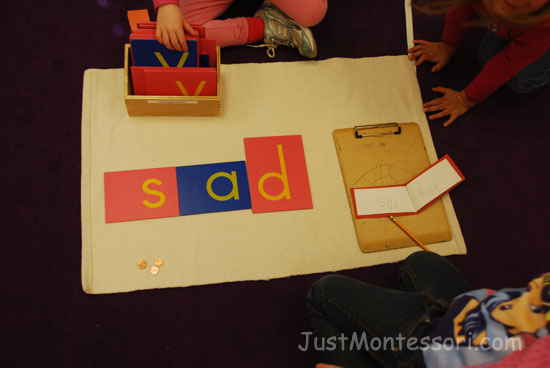 Sandpaper Blending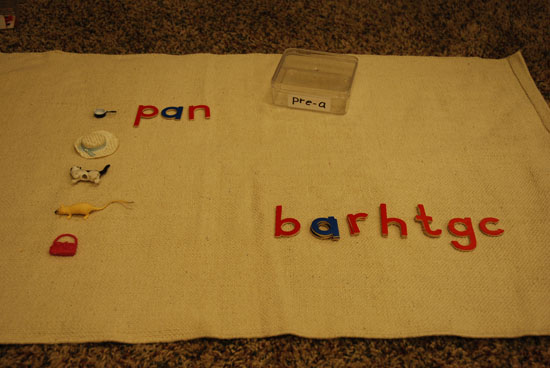 Pre-selected Boxes
Movable Alphabet - This is a box of letters that are found in Montessori classrooms. If you are a homeschooler, having one of these is highly recommended. Montessori Outlet and Alison's Montessori sells them for reasonable prices, both can be found on the Internet. To help the child become familiar with the movable alphabet, have children match them to sandpaper letters.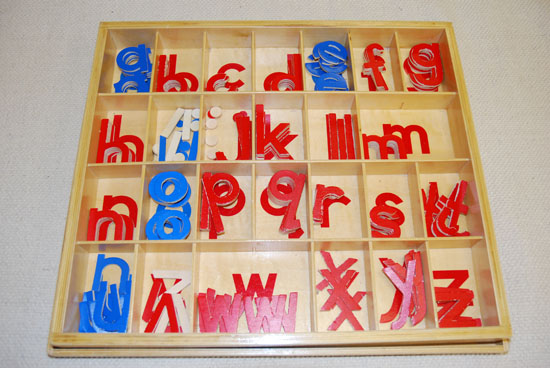 Movable Alphabet
Level One Words (3 letter-short- vowel)
Objects and Movable Alphabet - Five boxes with six objects each.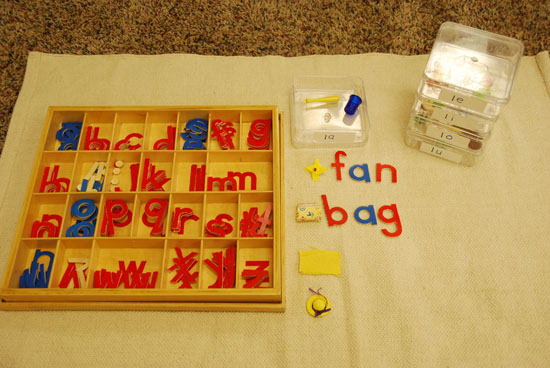 Objects with Movable Alphabet
Pictures and Movable Alphabet - Five boxes with six pictures, one box for each vowel.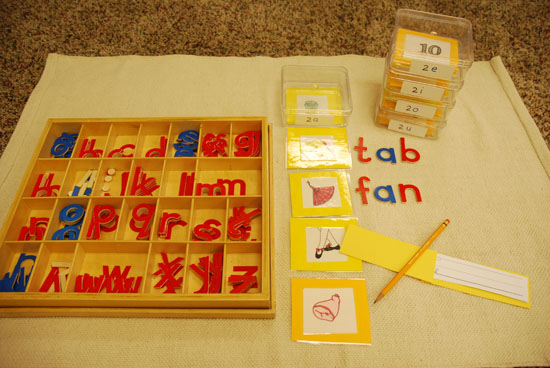 Pictures with Movable Alphabet
Objects with Word Cards - Each vowel box has six objects with word cards that the child will now begin to sound out and read.
Pictures with Word Cards - Same as above except instead of objects, the boxes have pictures.
Mix Boxes - A set of boxes containing a variety of pictures with mix short vowel word cards to match.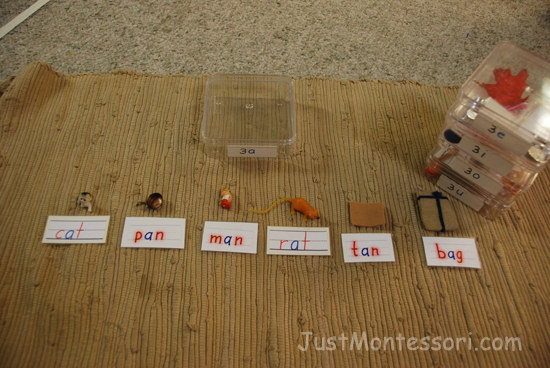 Objects with Word Cards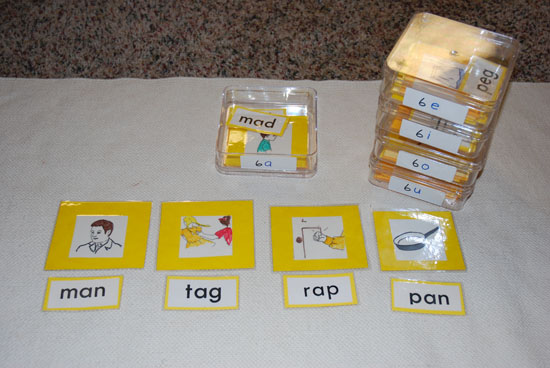 Pictures with Word Cards
This is the last set of boxes the children go through before the mix boxes. Boxes 1-6 each have 5 boxes per set of each vowel.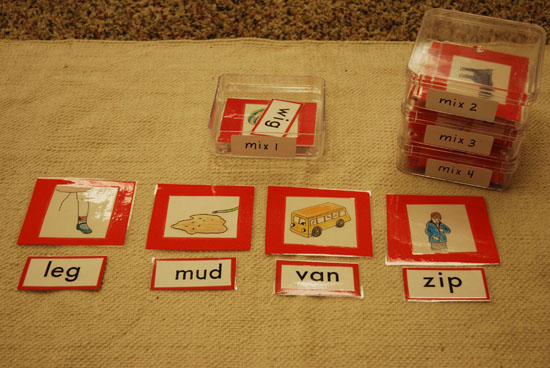 Single Word Books - Small booklets with a single phonetic word printed on each page. One booklet for each short vowel.
Word Lists - Cards with phonetic words printed in a vertical column.
Rhyme Cards - These are from Montessori Services.
Sound Box - A box containing a mix of phonetic short vowel words. Children can choose a word card, sound it out, and write the words.
Sight Words - I made this set of some sight words for the children to match and write down. These will help them to be prepared for upcoming sentences and books. I also like to introduce capital letters at about this point in the program.
Sentence Building - These are steps for beginning to read sentences. The first one, I found on themoveablealphabet.com. I thought it was such a great idea and so made a set. The steps continue with building a sentence to match a picture, a sentence that matches a picture, and sentence strips.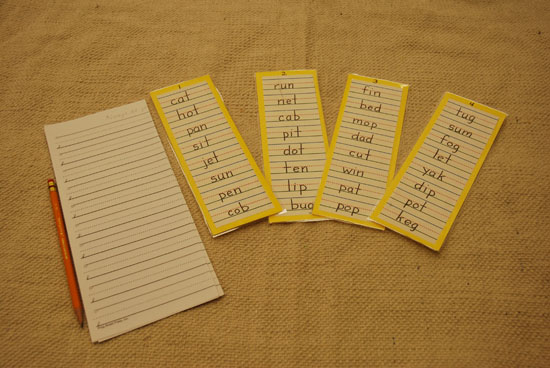 Word Lists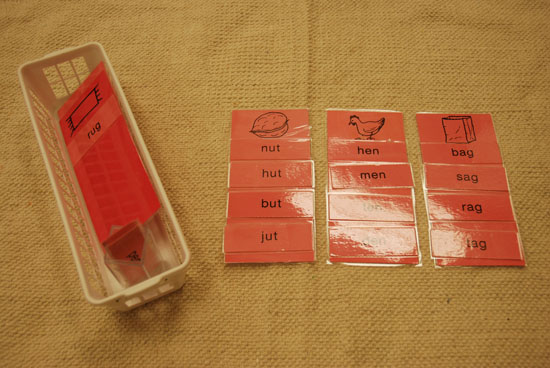 Rhyme Cards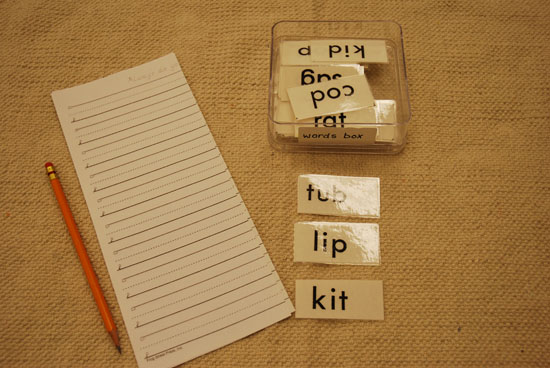 Word Box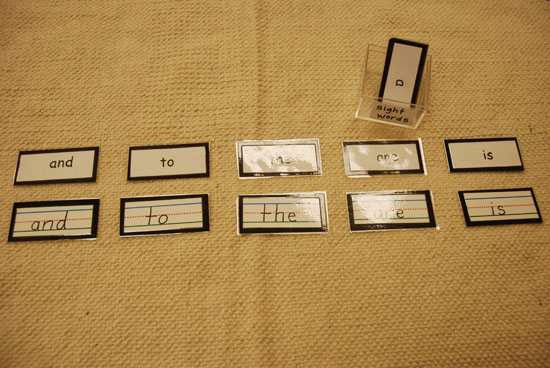 Sight Words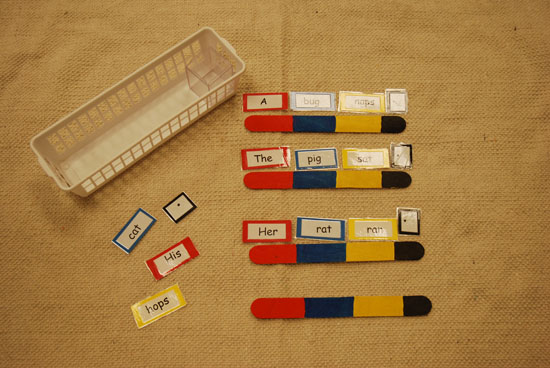 Sentence Building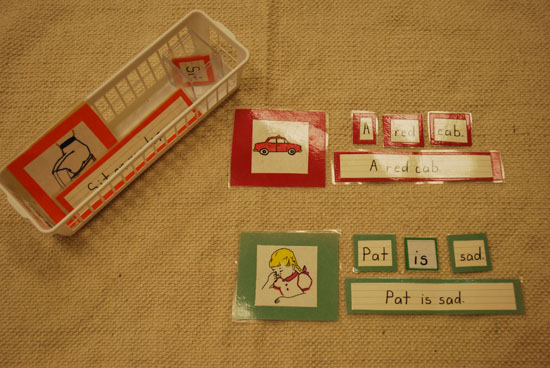 Sentence Building
Sentences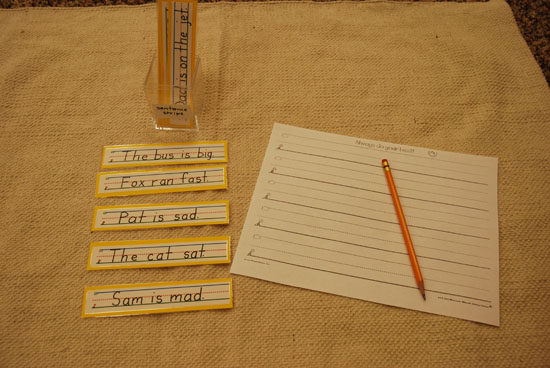 Sentences
Singular / Plural - I found little short vowel sound objects and bought four of each and made it into a singular and plural work, introducing adding 's' to a word, and that it means more than one.
Appropriate Books - I bought this set from lamppostpublishing.com. I really like this set, it comes with a book of worksheets to help with reading comprehension for each book in the set. Another good choice for books are the Bob Books Set.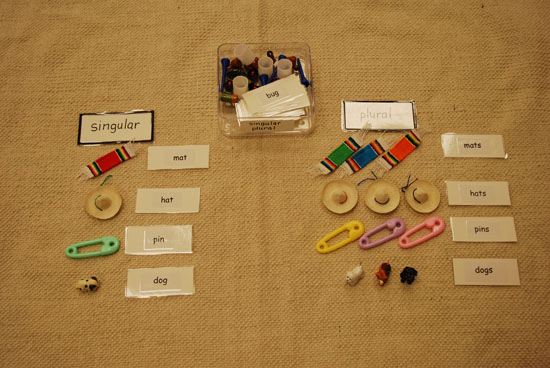 Singular/Plural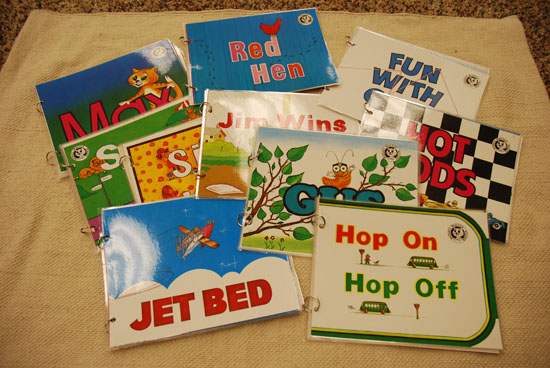 Book Set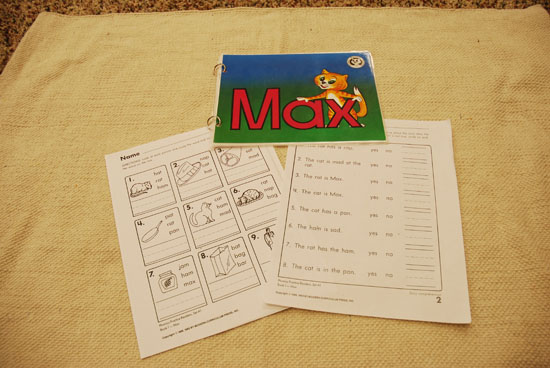 Book with Worksheets
This is end of the three-letter phonetic words part of the reading program. The next step in the program follows the same sequence and the same exercises, only the words now will be four or more letter phonetic words. Here are some examples of the 4-letter phonetic words. Additional lesson added in this part of the program is the boxes for silent "e". Pictures with words for each vowel a-e, i-e, o-e, and u-e. Last box is a mixed vowel box with objects and words. Silent "e" boxes should be used with two different colored movable alphabets with objects and or pictures. Be sure the child can differentiate between vowels and consonants. Teach the child the rule: If there is a single vowel followed by a consonant and a final "e", the "e" on the end makes the vowel say its name and the "e" is silent. I made the picture cards and words for the silent"e" boxes using different colored markers to write the word cards out, as I did not have two sets of different colored movable alphabets.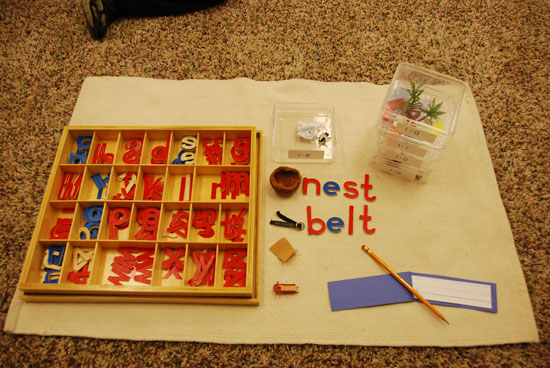 4-Letter Objects with Movable Alphabet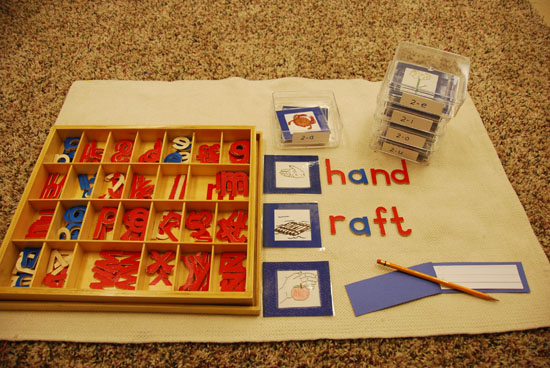 4-Letter Words with Pictures and Movable Alphabet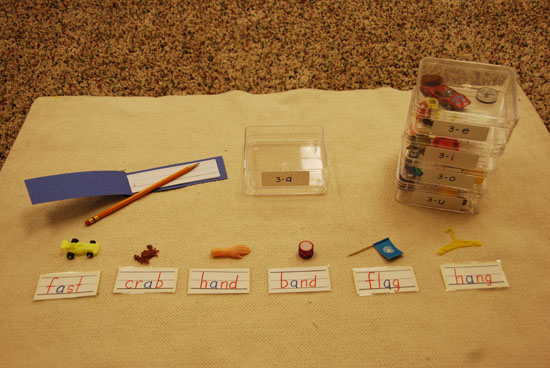 Objects with Words
Pictures with Words
Mixed Vowel Boxes with Words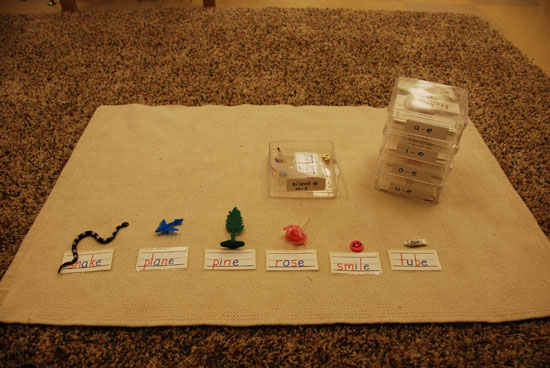 Silent "e" Boxes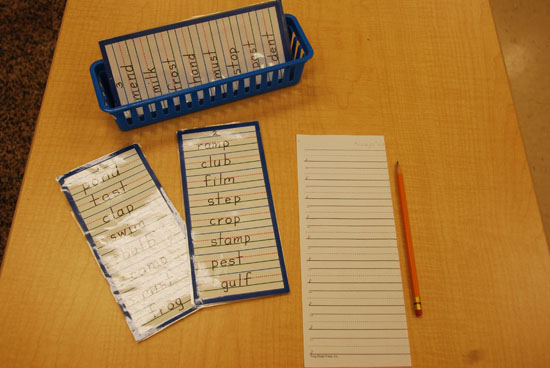 Word Lists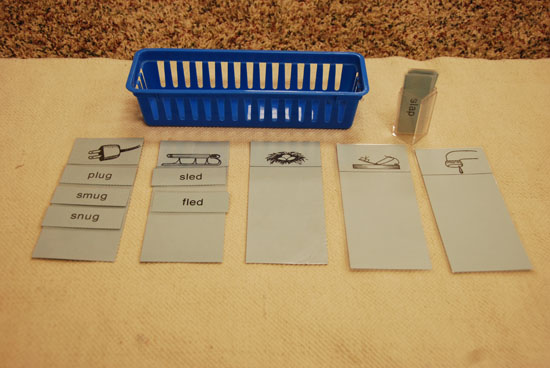 Rhyming Words
Phonograms come next in the Language Program. I took a little from different sources, combined them, and put together this part of my Language Program. In my training, we were taught to use a box of phonogram cards that are used as flashcards would be. I felt it would be better to have boxes with pictures and words to match. In the boxes the children would first match the color-coded words (phonogram highlighted) to the picture. They then next would read the black label word itself. I usually have them only write the words one time unless they want to write them again of course. Word list come after the boxes with pictures to match.
It is best if a moveable alphabet in two different colors is used to compose words which allows the child to highlight the phongram itself. I find that unless a school goes up through the elementary grades, these movable alphabets aren' t always available, so I decided to make word cards to match to the pictures.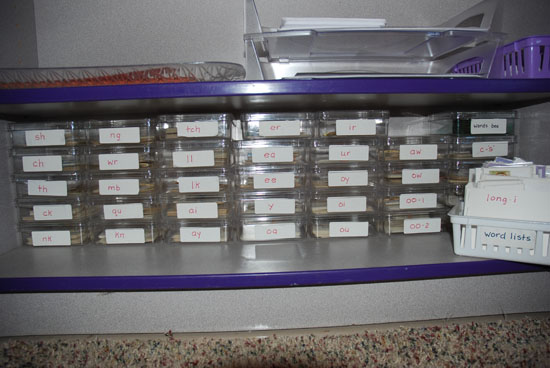 Phonogram Boxes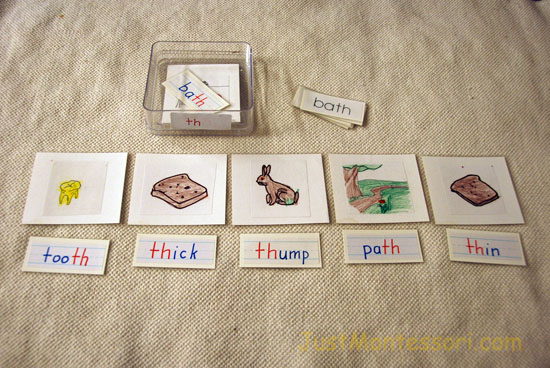 Phonogram Box - th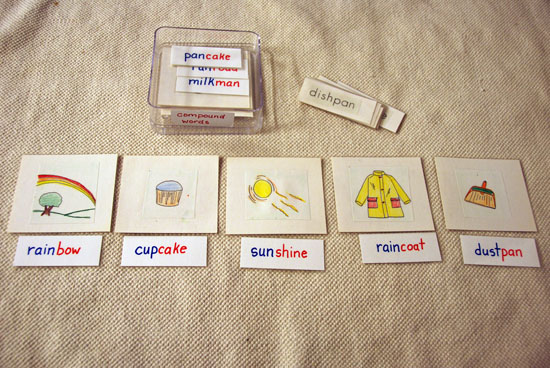 Compound Word Box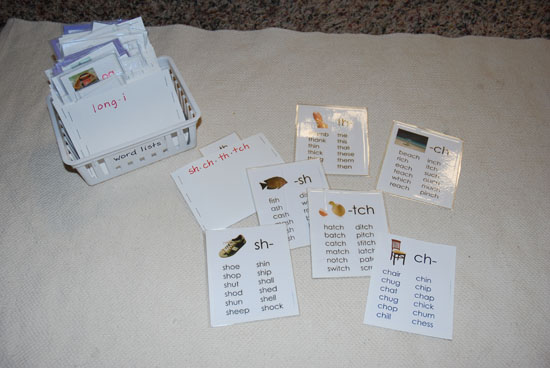 Phonogram Word Lists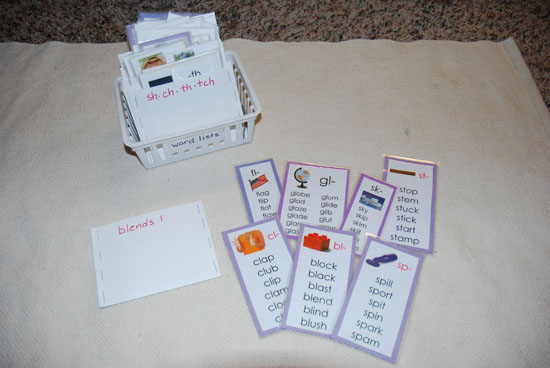 Phonogram Word Lists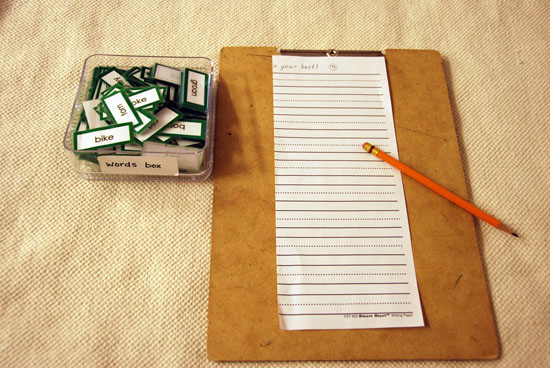 Word List Box (Phonograms and Silent "e")