Geography

: (first circle)

Need for lesson - A food common to Africa, music, and necklace art activity.
Index File Card
can be pasted onto an index file card for quick reference
---
Geography 27
We are visiting the continent of Africa. The highest mountain in Africa is called Kilimanjaro and the longest river is the Nile river. Africa is home to many animals like elephants, zebras, cheetahs, and hippos. One fascinating African creature is the honey-guide bird. Honey-guide birds are smart little birds. They will first find a beehive, and then find a honey-loving animal or person and guide them to the hive so they can break it open. Then the honey-guide bird quickly gathers her share of the honey!
Children in Africa like to play games. Boys have fun rolling hoops and tires. They enjoy playing volleyball, soccer, and checkers. Girls like playing hopscotch, jacks, and jump rope. Music is also a big part of African culture. Clothes are bright and beautiful. African clothing is often printed with patterns and designs. Beautiful necklaces are also made out of metal or nature materials. African masks are often worn for special dances and events.
What about foods that are common to Africa? Vegetables, grains, spices, and lentils are common foods found in Africa. Cassava, green bananas, and yams are eaten all over the continent. We can have a snack of bananas and coconut while we listen to some music from Africa.
Demonstrate art activity.
---
Art

:

African Plate Necklaces - Cut paper plates around the rim-ridged part of the plate all the way around and cut an opening to make a necklace shape. Provide markers and beads for the children to decorate the plates with.

Mask Coloring - Children can color these masks and then cut them out. (from kidssoup.com)

Animals of Africa - These are pictures of animals common to Africa that children can color and make into puppets or glue onto a piece of paper.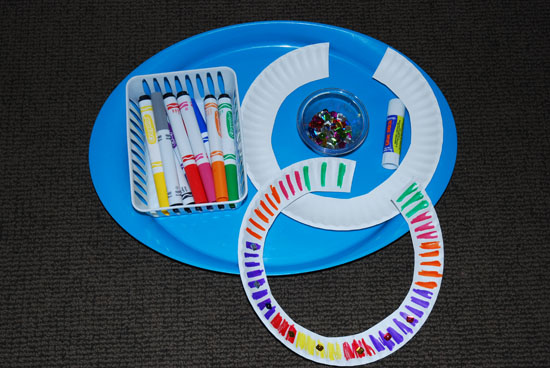 Africa Necklaces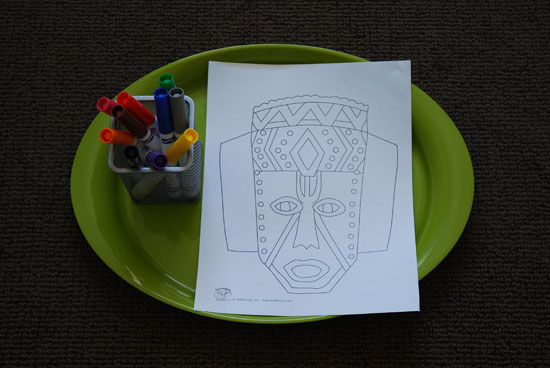 Africa Mask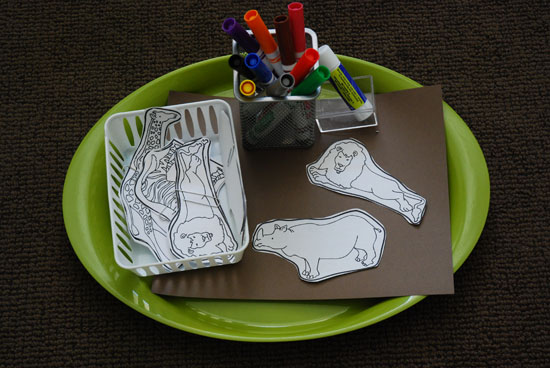 Africa Animals
Additional Works

:

Map of Africa - Children can color in the different countries.

Flags of Africa - Children can make a flag from a country in Africa. (MontessoriPrintShop.com)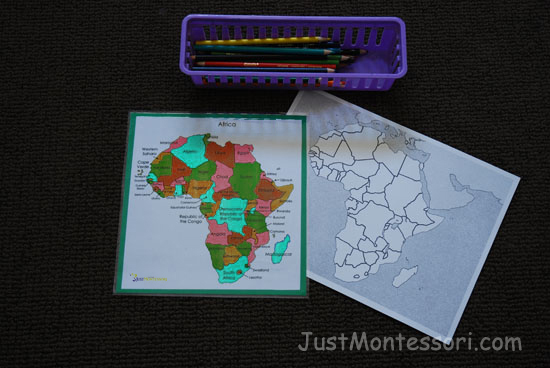 Africa Map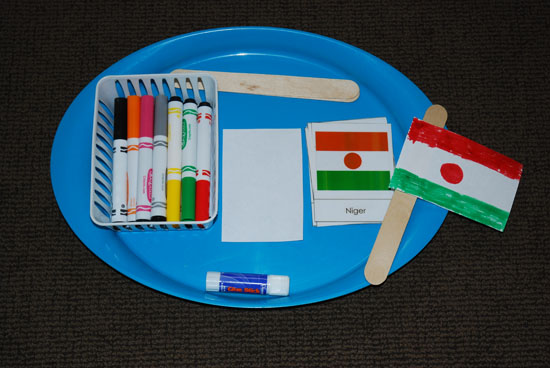 Flags of Africa
Songs/Poems

: (second circle)

Honey... Honey... Lion - This is a book about the honey-guide bird. Instruments are played along with the story. Each child has one of the instruments that is used for the story. While you read the book, during the sounds read, in the story, those instruments are played by the children.

Pitter, Patter - Triangles
Splish, Splash - Maracas
Sprong, Sprong - Bells
Boom, Boom - Drums
Clickety, Click - Sticks
Swish, Swish - Blocks

(Idea is from Janbrett.com. I changed the instruments and made cards to go along with the story.)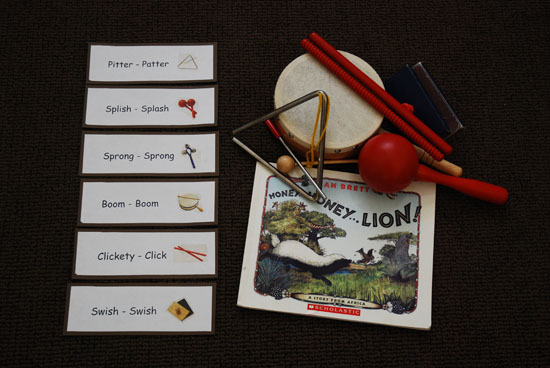 Honey Honey Lion