Strict Standards
: Declaration of FileAttributeKey::getList() should be compatible with AttributeKey::getList($akCategoryHandle, $filters = Array) in
/home/limarie/public_html/updates/concrete5.4.2.2/concrete/models/attribute/categories/file.php
on line
0
Strict Standards
: Declaration of FileAttributeKey::add() should be compatible with AttributeKey::add($akCategoryHandle, $type, $args, $pkg = false) in
/home/limarie/public_html/updates/concrete5.4.2.2/concrete/models/attribute/categories/file.php
on line
0
Strict Standards
: Non-static method Cache::get() should not be called statically in
/home/limarie/public_html/updates/concrete5.4.2.2/concrete/models/attribute/categories/file.php
on line
57
Strict Standards
: Non-static method Cache::key() should not be called statically in
/home/limarie/public_html/updates/concrete5.4.2.2/concrete/libraries/cache.php
on line
117
Strict Standards
: Non-static method Cache::getLibrary() should not be called statically in
/home/limarie/public_html/updates/concrete5.4.2.2/concrete/libraries/cache.php
on line
121
Strict Standards
: Non-static method Cache::key() should not be called statically in
/home/limarie/public_html/updates/concrete5.4.2.2/concrete/libraries/cache.php
on line
137
Strict Standards
: Non-static method Cache::set() should not be called statically in
/home/limarie/public_html/updates/concrete5.4.2.2/concrete/models/attribute/categories/file.php
on line
65
Strict Standards
: Non-static method Cache::key() should not be called statically in
/home/limarie/public_html/updates/concrete5.4.2.2/concrete/libraries/cache.php
on line
101
Strict Standards
: Non-static method Cache::getLibrary() should not be called statically in
/home/limarie/public_html/updates/concrete5.4.2.2/concrete/libraries/cache.php
on line
103
Strict Standards
: Non-static method Cache::key() should not be called statically in
/home/limarie/public_html/updates/concrete5.4.2.2/concrete/libraries/cache.php
on line
107
Strict Standards
: Non-static method Loader::db() should not be called statically in
/home/limarie/public_html/updates/concrete5.4.2.2/concrete/models/attribute/type.php
on line
11
Strict Standards
: Non-static method Cache::get() should not be called statically in
/home/limarie/public_html/updates/concrete5.4.2.2/concrete/models/attribute/categories/file.php
on line
57
Strict Standards
: Non-static method Cache::key() should not be called statically in
/home/limarie/public_html/updates/concrete5.4.2.2/concrete/libraries/cache.php
on line
117
Strict Standards
: Non-static method Cache::getLibrary() should not be called statically in
/home/limarie/public_html/updates/concrete5.4.2.2/concrete/libraries/cache.php
on line
121
Strict Standards
: Non-static method Cache::key() should not be called statically in
/home/limarie/public_html/updates/concrete5.4.2.2/concrete/libraries/cache.php
on line
137
Strict Standards
: Non-static method Cache::set() should not be called statically in
/home/limarie/public_html/updates/concrete5.4.2.2/concrete/models/attribute/categories/file.php
on line
65
Strict Standards
: Non-static method Cache::key() should not be called statically in
/home/limarie/public_html/updates/concrete5.4.2.2/concrete/libraries/cache.php
on line
101
Strict Standards
: Non-static method Cache::getLibrary() should not be called statically in
/home/limarie/public_html/updates/concrete5.4.2.2/concrete/libraries/cache.php
on line
103
Strict Standards
: Non-static method Cache::key() should not be called statically in
/home/limarie/public_html/updates/concrete5.4.2.2/concrete/libraries/cache.php
on line
107
Strict Standards
: Non-static method Loader::db() should not be called statically in
/home/limarie/public_html/updates/concrete5.4.2.2/concrete/models/attribute/type.php
on line
11
Strict Standards
: Non-static method Cache::get() should not be called statically in
/home/limarie/public_html/updates/concrete5.4.2.2/concrete/models/attribute/categories/file.php
on line
57
Strict Standards
: Non-static method Cache::key() should not be called statically in
/home/limarie/public_html/updates/concrete5.4.2.2/concrete/libraries/cache.php
on line
117
Strict Standards
: Non-static method Cache::key() should not be called statically in
/home/limarie/public_html/updates/concrete5.4.2.2/concrete/libraries/cache.php
on line
118
Strict Standards
: Non-static method Loader::db() should not be called statically in
/home/limarie/public_html/updates/concrete5.4.2.2/concrete/models/attribute/type.php
on line
11
Strict Standards
: Non-static method Cache::get() should not be called statically in
/home/limarie/public_html/updates/concrete5.4.2.2/concrete/models/attribute/categories/file.php
on line
57
Strict Standards
: Non-static method Cache::key() should not be called statically in
/home/limarie/public_html/updates/concrete5.4.2.2/concrete/libraries/cache.php
on line
117
Strict Standards
: Non-static method Cache::key() should not be called statically in
/home/limarie/public_html/updates/concrete5.4.2.2/concrete/libraries/cache.php
on line
118
Strict Standards
: Non-static method Loader::db() should not be called statically in
/home/limarie/public_html/updates/concrete5.4.2.2/concrete/models/attribute/type.php
on line
11
Strict Standards
: Non-static method Cache::get() should not be called statically in
/home/limarie/public_html/updates/concrete5.4.2.2/concrete/models/attribute/categories/file.php
on line
57
Strict Standards
: Non-static method Cache::key() should not be called statically in
/home/limarie/public_html/updates/concrete5.4.2.2/concrete/libraries/cache.php
on line
117
Strict Standards
: Non-static method Cache::key() should not be called statically in
/home/limarie/public_html/updates/concrete5.4.2.2/concrete/libraries/cache.php
on line
118
Strict Standards
: Non-static method Loader::db() should not be called statically in
/home/limarie/public_html/updates/concrete5.4.2.2/concrete/models/attribute/type.php
on line
11
Strict Standards
: Non-static method Cache::get() should not be called statically in
/home/limarie/public_html/updates/concrete5.4.2.2/concrete/models/attribute/categories/file.php
on line
57
Strict Standards
: Non-static method Cache::key() should not be called statically in
/home/limarie/public_html/updates/concrete5.4.2.2/concrete/libraries/cache.php
on line
117
Strict Standards
: Non-static method Cache::key() should not be called statically in
/home/limarie/public_html/updates/concrete5.4.2.2/concrete/libraries/cache.php
on line
118
Strict Standards
: Non-static method Loader::db() should not be called statically in
/home/limarie/public_html/updates/concrete5.4.2.2/concrete/models/attribute/type.php
on line
11
Strict Standards
: Non-static method Cache::get() should not be called statically in
/home/limarie/public_html/updates/concrete5.4.2.2/concrete/models/attribute/categories/file.php
on line
57
Strict Standards
: Non-static method Cache::key() should not be called statically in
/home/limarie/public_html/updates/concrete5.4.2.2/concrete/libraries/cache.php
on line
117
Strict Standards
: Non-static method Cache::key() should not be called statically in
/home/limarie/public_html/updates/concrete5.4.2.2/concrete/libraries/cache.php
on line
118
Strict Standards
: Non-static method Loader::db() should not be called statically in
/home/limarie/public_html/updates/concrete5.4.2.2/concrete/models/attribute/type.php
on line
11
Strict Standards
: Non-static method Cache::get() should not be called statically in
/home/limarie/public_html/updates/concrete5.4.2.2/concrete/models/attribute/categories/file.php
on line
57
Strict Standards
: Non-static method Cache::key() should not be called statically in
/home/limarie/public_html/updates/concrete5.4.2.2/concrete/libraries/cache.php
on line
117
Strict Standards
: Non-static method Cache::key() should not be called statically in
/home/limarie/public_html/updates/concrete5.4.2.2/concrete/libraries/cache.php
on line
118
Strict Standards
: Non-static method Loader::db() should not be called statically in
/home/limarie/public_html/updates/concrete5.4.2.2/concrete/models/attribute/type.php
on line
11
Strict Standards
: Non-static method Cache::get() should not be called statically in
/home/limarie/public_html/updates/concrete5.4.2.2/concrete/models/attribute/categories/file.php
on line
57
Strict Standards
: Non-static method Cache::key() should not be called statically in
/home/limarie/public_html/updates/concrete5.4.2.2/concrete/libraries/cache.php
on line
117
Strict Standards
: Non-static method Cache::key() should not be called statically in
/home/limarie/public_html/updates/concrete5.4.2.2/concrete/libraries/cache.php
on line
118
Strict Standards
: Non-static method Loader::db() should not be called statically in
/home/limarie/public_html/updates/concrete5.4.2.2/concrete/models/attribute/type.php
on line
11
Strict Standards
: Non-static method Cache::get() should not be called statically in
/home/limarie/public_html/updates/concrete5.4.2.2/concrete/models/attribute/categories/file.php
on line
57
Strict Standards
: Non-static method Cache::key() should not be called statically in
/home/limarie/public_html/updates/concrete5.4.2.2/concrete/libraries/cache.php
on line
117
Strict Standards
: Non-static method Cache::key() should not be called statically in
/home/limarie/public_html/updates/concrete5.4.2.2/concrete/libraries/cache.php
on line
118
Strict Standards
: Non-static method Loader::db() should not be called statically in
/home/limarie/public_html/updates/concrete5.4.2.2/concrete/models/attribute/type.php
on line
11
Strict Standards
: Non-static method Cache::get() should not be called statically in
/home/limarie/public_html/updates/concrete5.4.2.2/concrete/models/attribute/categories/file.php
on line
57
Strict Standards
: Non-static method Cache::key() should not be called statically in
/home/limarie/public_html/updates/concrete5.4.2.2/concrete/libraries/cache.php
on line
117
Strict Standards
: Non-static method Cache::key() should not be called statically in
/home/limarie/public_html/updates/concrete5.4.2.2/concrete/libraries/cache.php
on line
118
Strict Standards
: Non-static method Loader::db() should not be called statically in
/home/limarie/public_html/updates/concrete5.4.2.2/concrete/models/attribute/type.php
on line
11
Strict Standards
: Non-static method Cache::get() should not be called statically in
/home/limarie/public_html/updates/concrete5.4.2.2/concrete/models/attribute/categories/file.php
on line
57
Strict Standards
: Non-static method Cache::key() should not be called statically in
/home/limarie/public_html/updates/concrete5.4.2.2/concrete/libraries/cache.php
on line
117
Strict Standards
: Non-static method Cache::key() should not be called statically in
/home/limarie/public_html/updates/concrete5.4.2.2/concrete/libraries/cache.php
on line
118
Strict Standards
: Non-static method Loader::db() should not be called statically in
/home/limarie/public_html/updates/concrete5.4.2.2/concrete/models/attribute/type.php
on line
11
Strict Standards
: Non-static method Cache::get() should not be called statically in
/home/limarie/public_html/updates/concrete5.4.2.2/concrete/models/attribute/categories/file.php
on line
57
Strict Standards
: Non-static method Cache::key() should not be called statically in
/home/limarie/public_html/updates/concrete5.4.2.2/concrete/libraries/cache.php
on line
117
Strict Standards
: Non-static method Cache::key() should not be called statically in
/home/limarie/public_html/updates/concrete5.4.2.2/concrete/libraries/cache.php
on line
118
Strict Standards
: Non-static method Loader::db() should not be called statically in
/home/limarie/public_html/updates/concrete5.4.2.2/concrete/models/attribute/type.php
on line
11
Strict Standards
: Non-static method Cache::get() should not be called statically in
/home/limarie/public_html/updates/concrete5.4.2.2/concrete/models/attribute/categories/file.php
on line
57
Strict Standards
: Non-static method Cache::key() should not be called statically in
/home/limarie/public_html/updates/concrete5.4.2.2/concrete/libraries/cache.php
on line
117
Strict Standards
: Non-static method Cache::key() should not be called statically in
/home/limarie/public_html/updates/concrete5.4.2.2/concrete/libraries/cache.php
on line
118
Strict Standards
: Non-static method Loader::db() should not be called statically in
/home/limarie/public_html/updates/concrete5.4.2.2/concrete/models/attribute/type.php
on line
11
Strict Standards
: Non-static method Cache::get() should not be called statically in
/home/limarie/public_html/updates/concrete5.4.2.2/concrete/models/attribute/categories/file.php
on line
57
Strict Standards
: Non-static method Cache::key() should not be called statically in
/home/limarie/public_html/updates/concrete5.4.2.2/concrete/libraries/cache.php
on line
117
Strict Standards
: Non-static method Cache::key() should not be called statically in
/home/limarie/public_html/updates/concrete5.4.2.2/concrete/libraries/cache.php
on line
118
Strict Standards
: Non-static method Loader::db() should not be called statically in
/home/limarie/public_html/updates/concrete5.4.2.2/concrete/models/attribute/type.php
on line
11
Strict Standards
: Non-static method Cache::get() should not be called statically in
/home/limarie/public_html/updates/concrete5.4.2.2/concrete/models/attribute/categories/file.php
on line
57
Strict Standards
: Non-static method Cache::key() should not be called statically in
/home/limarie/public_html/updates/concrete5.4.2.2/concrete/libraries/cache.php
on line
117
Strict Standards
: Non-static method Cache::key() should not be called statically in
/home/limarie/public_html/updates/concrete5.4.2.2/concrete/libraries/cache.php
on line
118
Strict Standards
: Non-static method Loader::db() should not be called statically in
/home/limarie/public_html/updates/concrete5.4.2.2/concrete/models/attribute/type.php
on line
11
Strict Standards
: Non-static method Cache::get() should not be called statically in
/home/limarie/public_html/updates/concrete5.4.2.2/concrete/models/attribute/categories/file.php
on line
57
Strict Standards
: Non-static method Cache::key() should not be called statically in
/home/limarie/public_html/updates/concrete5.4.2.2/concrete/libraries/cache.php
on line
117
Strict Standards
: Non-static method Cache::key() should not be called statically in
/home/limarie/public_html/updates/concrete5.4.2.2/concrete/libraries/cache.php
on line
118
Strict Standards
: Non-static method Loader::db() should not be called statically in
/home/limarie/public_html/updates/concrete5.4.2.2/concrete/models/attribute/type.php
on line
11
Strict Standards
: Non-static method Cache::get() should not be called statically in
/home/limarie/public_html/updates/concrete5.4.2.2/concrete/models/attribute/categories/file.php
on line
57
Strict Standards
: Non-static method Cache::key() should not be called statically in
/home/limarie/public_html/updates/concrete5.4.2.2/concrete/libraries/cache.php
on line
117
Strict Standards
: Non-static method Cache::key() should not be called statically in
/home/limarie/public_html/updates/concrete5.4.2.2/concrete/libraries/cache.php
on line
118
Strict Standards
: Non-static method Loader::db() should not be called statically in
/home/limarie/public_html/updates/concrete5.4.2.2/concrete/models/attribute/type.php
on line
11
Strict Standards
: Non-static method Cache::get() should not be called statically in
/home/limarie/public_html/updates/concrete5.4.2.2/concrete/models/attribute/categories/file.php
on line
57
Strict Standards
: Non-static method Cache::key() should not be called statically in
/home/limarie/public_html/updates/concrete5.4.2.2/concrete/libraries/cache.php
on line
117
Strict Standards
: Non-static method Cache::key() should not be called statically in
/home/limarie/public_html/updates/concrete5.4.2.2/concrete/libraries/cache.php
on line
118
Strict Standards
: Non-static method Loader::db() should not be called statically in
/home/limarie/public_html/updates/concrete5.4.2.2/concrete/models/attribute/type.php
on line
11
Strict Standards
: Non-static method Cache::get() should not be called statically in
/home/limarie/public_html/updates/concrete5.4.2.2/concrete/models/attribute/categories/file.php
on line
57
Strict Standards
: Non-static method Cache::key() should not be called statically in
/home/limarie/public_html/updates/concrete5.4.2.2/concrete/libraries/cache.php
on line
117
Strict Standards
: Non-static method Cache::key() should not be called statically in
/home/limarie/public_html/updates/concrete5.4.2.2/concrete/libraries/cache.php
on line
118
Strict Standards
: Non-static method Loader::db() should not be called statically in
/home/limarie/public_html/updates/concrete5.4.2.2/concrete/models/attribute/type.php
on line
11
Strict Standards
: Non-static method Cache::get() should not be called statically in
/home/limarie/public_html/updates/concrete5.4.2.2/concrete/models/file.php
on line
80
Strict Standards
: Non-static method Cache::key() should not be called statically in
/home/limarie/public_html/updates/concrete5.4.2.2/concrete/libraries/cache.php
on line
117
Strict Standards
: Non-static method Cache::getLibrary() should not be called statically in
/home/limarie/public_html/updates/concrete5.4.2.2/concrete/libraries/cache.php
on line
121
Strict Standards
: Non-static method Cache::key() should not be called statically in
/home/limarie/public_html/updates/concrete5.4.2.2/concrete/libraries/cache.php
on line
137
Strict Standards
: Non-static method File::getByID() should not be called statically in
/home/limarie/public_html/updates/concrete5.4.2.2/concrete/models/file.php
on line
85
Strict Standards
: Non-static method Cache::get() should not be called statically in
/home/limarie/public_html/updates/concrete5.4.2.2/concrete/models/file.php
on line
17
Strict Standards
: Non-static method Cache::key() should not be called statically in
/home/limarie/public_html/updates/concrete5.4.2.2/concrete/libraries/cache.php
on line
117
Strict Standards
: Non-static method Cache::key() should not be called statically in
/home/limarie/public_html/updates/concrete5.4.2.2/concrete/libraries/cache.php
on line
118
Strict Standards
: Non-static method Cache::set() should not be called statically in
/home/limarie/public_html/updates/concrete5.4.2.2/concrete/models/file.php
on line
88
Strict Standards
: Non-static method Cache::key() should not be called statically in
/home/limarie/public_html/updates/concrete5.4.2.2/concrete/libraries/cache.php
on line
101
Strict Standards
: Non-static method Cache::getLibrary() should not be called statically in
/home/limarie/public_html/updates/concrete5.4.2.2/concrete/libraries/cache.php
on line
103
Strict Standards
: Non-static method Cache::key() should not be called statically in
/home/limarie/public_html/updates/concrete5.4.2.2/concrete/libraries/cache.php
on line
107
Strict Standards
: Non-static method Cache::get() should not be called statically in
/home/limarie/public_html/updates/concrete5.4.2.2/concrete/models/file.php
on line
80
Strict Standards
: Non-static method Cache::key() should not be called statically in
/home/limarie/public_html/updates/concrete5.4.2.2/concrete/libraries/cache.php
on line
117
Strict Standards
: Non-static method Cache::getLibrary() should not be called statically in
/home/limarie/public_html/updates/concrete5.4.2.2/concrete/libraries/cache.php
on line
121
Strict Standards
: Non-static method Cache::key() should not be called statically in
/home/limarie/public_html/updates/concrete5.4.2.2/concrete/libraries/cache.php
on line
137
Strict Standards
: Non-static method File::getByID() should not be called statically in
/home/limarie/public_html/updates/concrete5.4.2.2/concrete/models/file.php
on line
85
Strict Standards
: Non-static method Cache::get() should not be called statically in
/home/limarie/public_html/updates/concrete5.4.2.2/concrete/models/file.php
on line
17
Strict Standards
: Non-static method Cache::key() should not be called statically in
/home/limarie/public_html/updates/concrete5.4.2.2/concrete/libraries/cache.php
on line
117
Strict Standards
: Non-static method Cache::key() should not be called statically in
/home/limarie/public_html/updates/concrete5.4.2.2/concrete/libraries/cache.php
on line
118
Strict Standards
: Non-static method Cache::set() should not be called statically in
/home/limarie/public_html/updates/concrete5.4.2.2/concrete/models/file.php
on line
88
Strict Standards
: Non-static method Cache::key() should not be called statically in
/home/limarie/public_html/updates/concrete5.4.2.2/concrete/libraries/cache.php
on line
101
Strict Standards
: Non-static method Cache::getLibrary() should not be called statically in
/home/limarie/public_html/updates/concrete5.4.2.2/concrete/libraries/cache.php
on line
103
Strict Standards
: Non-static method Cache::key() should not be called statically in
/home/limarie/public_html/updates/concrete5.4.2.2/concrete/libraries/cache.php
on line
107
Strict Standards
: Non-static method Cache::get() should not be called statically in
/home/limarie/public_html/updates/concrete5.4.2.2/concrete/models/file.php
on line
80
Strict Standards
: Non-static method Cache::key() should not be called statically in
/home/limarie/public_html/updates/concrete5.4.2.2/concrete/libraries/cache.php
on line
117
Strict Standards
: Non-static method Cache::getLibrary() should not be called statically in
/home/limarie/public_html/updates/concrete5.4.2.2/concrete/libraries/cache.php
on line
121
Strict Standards
: Non-static method Cache::key() should not be called statically in
/home/limarie/public_html/updates/concrete5.4.2.2/concrete/libraries/cache.php
on line
137
Strict Standards
: Non-static method File::getByID() should not be called statically in
/home/limarie/public_html/updates/concrete5.4.2.2/concrete/models/file.php
on line
85
Strict Standards
: Non-static method Cache::get() should not be called statically in
/home/limarie/public_html/updates/concrete5.4.2.2/concrete/models/file.php
on line
17
Strict Standards
: Non-static method Cache::key() should not be called statically in
/home/limarie/public_html/updates/concrete5.4.2.2/concrete/libraries/cache.php
on line
117
Strict Standards
: Non-static method Cache::key() should not be called statically in
/home/limarie/public_html/updates/concrete5.4.2.2/concrete/libraries/cache.php
on line
118
Strict Standards
: Non-static method Cache::set() should not be called statically in
/home/limarie/public_html/updates/concrete5.4.2.2/concrete/models/file.php
on line
88
Strict Standards
: Non-static method Cache::key() should not be called statically in
/home/limarie/public_html/updates/concrete5.4.2.2/concrete/libraries/cache.php
on line
101
Strict Standards
: Non-static method Cache::getLibrary() should not be called statically in
/home/limarie/public_html/updates/concrete5.4.2.2/concrete/libraries/cache.php
on line
103
Strict Standards
: Non-static method Cache::key() should not be called statically in
/home/limarie/public_html/updates/concrete5.4.2.2/concrete/libraries/cache.php
on line
107
Strict Standards
: Non-static method Cache::get() should not be called statically in
/home/limarie/public_html/updates/concrete5.4.2.2/concrete/models/file.php
on line
80
Strict Standards
: Non-static method Cache::key() should not be called statically in
/home/limarie/public_html/updates/concrete5.4.2.2/concrete/libraries/cache.php
on line
117
Strict Standards
: Non-static method Cache::getLibrary() should not be called statically in
/home/limarie/public_html/updates/concrete5.4.2.2/concrete/libraries/cache.php
on line
121
Strict Standards
: Non-static method Cache::key() should not be called statically in
/home/limarie/public_html/updates/concrete5.4.2.2/concrete/libraries/cache.php
on line
137
Strict Standards
: Non-static method File::getByID() should not be called statically in
/home/limarie/public_html/updates/concrete5.4.2.2/concrete/models/file.php
on line
85
Strict Standards
: Non-static method Cache::get() should not be called statically in
/home/limarie/public_html/updates/concrete5.4.2.2/concrete/models/file.php
on line
17
Strict Standards
: Non-static method Cache::key() should not be called statically in
/home/limarie/public_html/updates/concrete5.4.2.2/concrete/libraries/cache.php
on line
117
Strict Standards
: Non-static method Cache::key() should not be called statically in
/home/limarie/public_html/updates/concrete5.4.2.2/concrete/libraries/cache.php
on line
118
Strict Standards
: Non-static method Cache::set() should not be called statically in
/home/limarie/public_html/updates/concrete5.4.2.2/concrete/models/file.php
on line
88
Strict Standards
: Non-static method Cache::key() should not be called statically in
/home/limarie/public_html/updates/concrete5.4.2.2/concrete/libraries/cache.php
on line
101
Strict Standards
: Non-static method Cache::getLibrary() should not be called statically in
/home/limarie/public_html/updates/concrete5.4.2.2/concrete/libraries/cache.php
on line
103
Strict Standards
: Non-static method Cache::key() should not be called statically in
/home/limarie/public_html/updates/concrete5.4.2.2/concrete/libraries/cache.php
on line
107
Strict Standards
: Non-static method Cache::get() should not be called statically in
/home/limarie/public_html/updates/concrete5.4.2.2/concrete/models/file.php
on line
80
Strict Standards
: Non-static method Cache::key() should not be called statically in
/home/limarie/public_html/updates/concrete5.4.2.2/concrete/libraries/cache.php
on line
117
Strict Standards
: Non-static method Cache::getLibrary() should not be called statically in
/home/limarie/public_html/updates/concrete5.4.2.2/concrete/libraries/cache.php
on line
121
Strict Standards
: Non-static method Cache::key() should not be called statically in
/home/limarie/public_html/updates/concrete5.4.2.2/concrete/libraries/cache.php
on line
137
Strict Standards
: Non-static method File::getByID() should not be called statically in
/home/limarie/public_html/updates/concrete5.4.2.2/concrete/models/file.php
on line
85
Strict Standards
: Non-static method Cache::get() should not be called statically in
/home/limarie/public_html/updates/concrete5.4.2.2/concrete/models/file.php
on line
17
Strict Standards
: Non-static method Cache::key() should not be called statically in
/home/limarie/public_html/updates/concrete5.4.2.2/concrete/libraries/cache.php
on line
117
Strict Standards
: Non-static method Cache::key() should not be called statically in
/home/limarie/public_html/updates/concrete5.4.2.2/concrete/libraries/cache.php
on line
118
Strict Standards
: Non-static method Cache::set() should not be called statically in
/home/limarie/public_html/updates/concrete5.4.2.2/concrete/models/file.php
on line
88
Strict Standards
: Non-static method Cache::key() should not be called statically in
/home/limarie/public_html/updates/concrete5.4.2.2/concrete/libraries/cache.php
on line
101
Strict Standards
: Non-static method Cache::getLibrary() should not be called statically in
/home/limarie/public_html/updates/concrete5.4.2.2/concrete/libraries/cache.php
on line
103
Strict Standards
: Non-static method Cache::key() should not be called statically in
/home/limarie/public_html/updates/concrete5.4.2.2/concrete/libraries/cache.php
on line
107
Strict Standards
: Non-static method Cache::get() should not be called statically in
/home/limarie/public_html/updates/concrete5.4.2.2/concrete/models/file.php
on line
80
Strict Standards
: Non-static method Cache::key() should not be called statically in
/home/limarie/public_html/updates/concrete5.4.2.2/concrete/libraries/cache.php
on line
117
Strict Standards
: Non-static method Cache::getLibrary() should not be called statically in
/home/limarie/public_html/updates/concrete5.4.2.2/concrete/libraries/cache.php
on line
121
Strict Standards
: Non-static method Cache::key() should not be called statically in
/home/limarie/public_html/updates/concrete5.4.2.2/concrete/libraries/cache.php
on line
137
Strict Standards
: Non-static method File::getByID() should not be called statically in
/home/limarie/public_html/updates/concrete5.4.2.2/concrete/models/file.php
on line
85
Strict Standards
: Non-static method Cache::get() should not be called statically in
/home/limarie/public_html/updates/concrete5.4.2.2/concrete/models/file.php
on line
17
Strict Standards
: Non-static method Cache::key() should not be called statically in
/home/limarie/public_html/updates/concrete5.4.2.2/concrete/libraries/cache.php
on line
117
Strict Standards
: Non-static method Cache::key() should not be called statically in
/home/limarie/public_html/updates/concrete5.4.2.2/concrete/libraries/cache.php
on line
118
Strict Standards
: Non-static method Cache::set() should not be called statically in
/home/limarie/public_html/updates/concrete5.4.2.2/concrete/models/file.php
on line
88
Strict Standards
: Non-static method Cache::key() should not be called statically in
/home/limarie/public_html/updates/concrete5.4.2.2/concrete/libraries/cache.php
on line
101
Strict Standards
: Non-static method Cache::getLibrary() should not be called statically in
/home/limarie/public_html/updates/concrete5.4.2.2/concrete/libraries/cache.php
on line
103
Strict Standards
: Non-static method Cache::key() should not be called statically in
/home/limarie/public_html/updates/concrete5.4.2.2/concrete/libraries/cache.php
on line
107
Strict Standards
: Non-static method Cache::get() should not be called statically in
/home/limarie/public_html/updates/concrete5.4.2.2/concrete/models/file.php
on line
80
Strict Standards
: Non-static method Cache::key() should not be called statically in
/home/limarie/public_html/updates/concrete5.4.2.2/concrete/libraries/cache.php
on line
117
Strict Standards
: Non-static method Cache::getLibrary() should not be called statically in
/home/limarie/public_html/updates/concrete5.4.2.2/concrete/libraries/cache.php
on line
121
Strict Standards
: Non-static method Cache::key() should not be called statically in
/home/limarie/public_html/updates/concrete5.4.2.2/concrete/libraries/cache.php
on line
137
Strict Standards
: Non-static method File::getByID() should not be called statically in
/home/limarie/public_html/updates/concrete5.4.2.2/concrete/models/file.php
on line
85
Strict Standards
: Non-static method Cache::get() should not be called statically in
/home/limarie/public_html/updates/concrete5.4.2.2/concrete/models/file.php
on line
17
Strict Standards
: Non-static method Cache::key() should not be called statically in
/home/limarie/public_html/updates/concrete5.4.2.2/concrete/libraries/cache.php
on line
117
Strict Standards
: Non-static method Cache::key() should not be called statically in
/home/limarie/public_html/updates/concrete5.4.2.2/concrete/libraries/cache.php
on line
118
Strict Standards
: Non-static method Cache::set() should not be called statically in
/home/limarie/public_html/updates/concrete5.4.2.2/concrete/models/file.php
on line
88
Strict Standards
: Non-static method Cache::key() should not be called statically in
/home/limarie/public_html/updates/concrete5.4.2.2/concrete/libraries/cache.php
on line
101
Strict Standards
: Non-static method Cache::getLibrary() should not be called statically in
/home/limarie/public_html/updates/concrete5.4.2.2/concrete/libraries/cache.php
on line
103
Strict Standards
: Non-static method Cache::key() should not be called statically in
/home/limarie/public_html/updates/concrete5.4.2.2/concrete/libraries/cache.php
on line
107
Strict Standards
: Non-static method Cache::get() should not be called statically in
/home/limarie/public_html/updates/concrete5.4.2.2/concrete/models/file.php
on line
80
Strict Standards
: Non-static method Cache::key() should not be called statically in
/home/limarie/public_html/updates/concrete5.4.2.2/concrete/libraries/cache.php
on line
117
Strict Standards
: Non-static method Cache::getLibrary() should not be called statically in
/home/limarie/public_html/updates/concrete5.4.2.2/concrete/libraries/cache.php
on line
121
Strict Standards
: Non-static method Cache::key() should not be called statically in
/home/limarie/public_html/updates/concrete5.4.2.2/concrete/libraries/cache.php
on line
137
Strict Standards
: Non-static method File::getByID() should not be called statically in
/home/limarie/public_html/updates/concrete5.4.2.2/concrete/models/file.php
on line
85
Strict Standards
: Non-static method Cache::get() should not be called statically in
/home/limarie/public_html/updates/concrete5.4.2.2/concrete/models/file.php
on line
17
Strict Standards
: Non-static method Cache::key() should not be called statically in
/home/limarie/public_html/updates/concrete5.4.2.2/concrete/libraries/cache.php
on line
117
Strict Standards
: Non-static method Cache::key() should not be called statically in
/home/limarie/public_html/updates/concrete5.4.2.2/concrete/libraries/cache.php
on line
118
Strict Standards
: Non-static method Cache::set() should not be called statically in
/home/limarie/public_html/updates/concrete5.4.2.2/concrete/models/file.php
on line
88
Strict Standards
: Non-static method Cache::key() should not be called statically in
/home/limarie/public_html/updates/concrete5.4.2.2/concrete/libraries/cache.php
on line
101
Strict Standards
: Non-static method Cache::getLibrary() should not be called statically in
/home/limarie/public_html/updates/concrete5.4.2.2/concrete/libraries/cache.php
on line
103
Strict Standards
: Non-static method Cache::key() should not be called statically in
/home/limarie/public_html/updates/concrete5.4.2.2/concrete/libraries/cache.php
on line
107
Strict Standards
: Non-static method Cache::get() should not be called statically in
/home/limarie/public_html/updates/concrete5.4.2.2/concrete/models/file.php
on line
80
Strict Standards
: Non-static method Cache::key() should not be called statically in
/home/limarie/public_html/updates/concrete5.4.2.2/concrete/libraries/cache.php
on line
117
Strict Standards
: Non-static method Cache::getLibrary() should not be called statically in
/home/limarie/public_html/updates/concrete5.4.2.2/concrete/libraries/cache.php
on line
121
Strict Standards
: Non-static method Cache::key() should not be called statically in
/home/limarie/public_html/updates/concrete5.4.2.2/concrete/libraries/cache.php
on line
137
Strict Standards
: Non-static method File::getByID() should not be called statically in
/home/limarie/public_html/updates/concrete5.4.2.2/concrete/models/file.php
on line
85
Strict Standards
: Non-static method Cache::get() should not be called statically in
/home/limarie/public_html/updates/concrete5.4.2.2/concrete/models/file.php
on line
17
Strict Standards
: Non-static method Cache::key() should not be called statically in
/home/limarie/public_html/updates/concrete5.4.2.2/concrete/libraries/cache.php
on line
117
Strict Standards
: Non-static method Cache::key() should not be called statically in
/home/limarie/public_html/updates/concrete5.4.2.2/concrete/libraries/cache.php
on line
118
Strict Standards
: Non-static method Cache::set() should not be called statically in
/home/limarie/public_html/updates/concrete5.4.2.2/concrete/models/file.php
on line
88
Strict Standards
: Non-static method Cache::key() should not be called statically in
/home/limarie/public_html/updates/concrete5.4.2.2/concrete/libraries/cache.php
on line
101
Strict Standards
: Non-static method Cache::getLibrary() should not be called statically in
/home/limarie/public_html/updates/concrete5.4.2.2/concrete/libraries/cache.php
on line
103
Strict Standards
: Non-static method Cache::key() should not be called statically in
/home/limarie/public_html/updates/concrete5.4.2.2/concrete/libraries/cache.php
on line
107
Strict Standards
: Non-static method Cache::get() should not be called statically in
/home/limarie/public_html/updates/concrete5.4.2.2/concrete/models/file.php
on line
80
Strict Standards
: Non-static method Cache::key() should not be called statically in
/home/limarie/public_html/updates/concrete5.4.2.2/concrete/libraries/cache.php
on line
117
Strict Standards
: Non-static method Cache::getLibrary() should not be called statically in
/home/limarie/public_html/updates/concrete5.4.2.2/concrete/libraries/cache.php
on line
121
Strict Standards
: Non-static method Cache::key() should not be called statically in
/home/limarie/public_html/updates/concrete5.4.2.2/concrete/libraries/cache.php
on line
137
Strict Standards
: Non-static method File::getByID() should not be called statically in
/home/limarie/public_html/updates/concrete5.4.2.2/concrete/models/file.php
on line
85
Strict Standards
: Non-static method Cache::get() should not be called statically in
/home/limarie/public_html/updates/concrete5.4.2.2/concrete/models/file.php
on line
17
Strict Standards
: Non-static method Cache::key() should not be called statically in
/home/limarie/public_html/updates/concrete5.4.2.2/concrete/libraries/cache.php
on line
117
Strict Standards
: Non-static method Cache::key() should not be called statically in
/home/limarie/public_html/updates/concrete5.4.2.2/concrete/libraries/cache.php
on line
118
Strict Standards
: Non-static method Cache::set() should not be called statically in
/home/limarie/public_html/updates/concrete5.4.2.2/concrete/models/file.php
on line
88
Strict Standards
: Non-static method Cache::key() should not be called statically in
/home/limarie/public_html/updates/concrete5.4.2.2/concrete/libraries/cache.php
on line
101
Strict Standards
: Non-static method Cache::getLibrary() should not be called statically in
/home/limarie/public_html/updates/concrete5.4.2.2/concrete/libraries/cache.php
on line
103
Strict Standards
: Non-static method Cache::key() should not be called statically in
/home/limarie/public_html/updates/concrete5.4.2.2/concrete/libraries/cache.php
on line
107
Here are some pumpkin work pictures as well as some others of the children.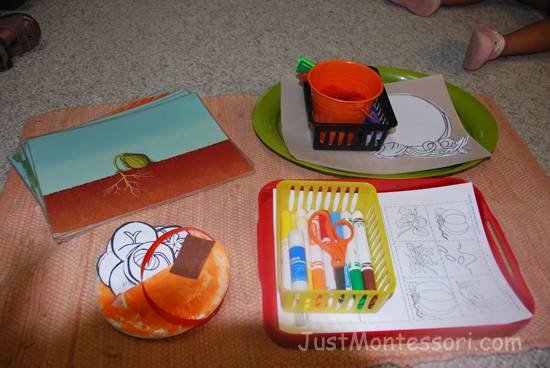 Pumpkin Lesson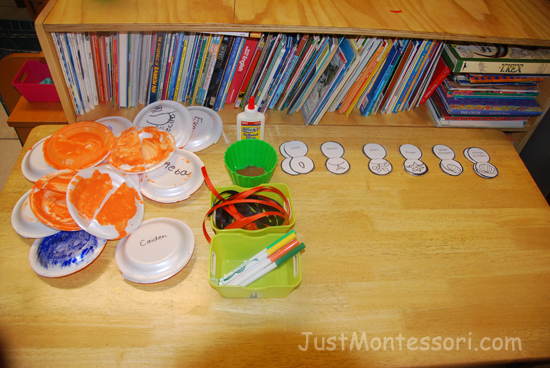 Pumpkin Art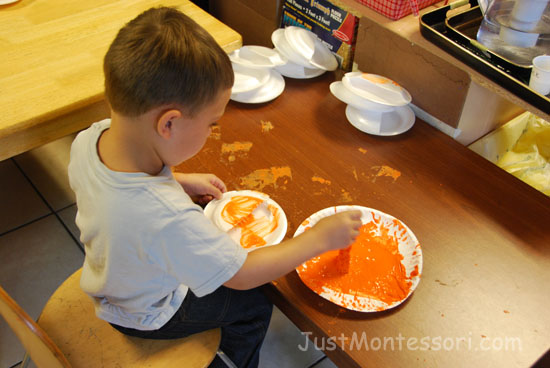 Painting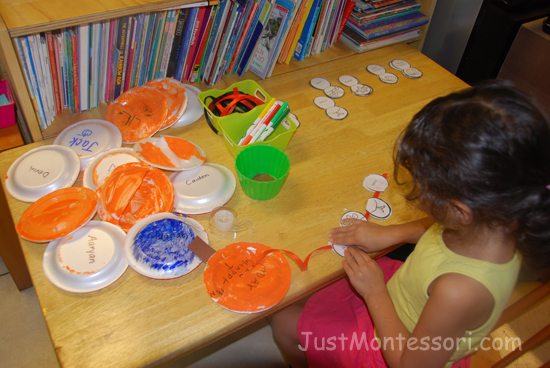 Pumpkin Art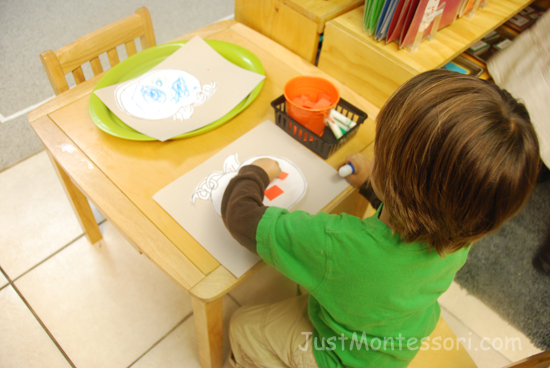 Pumpkin Art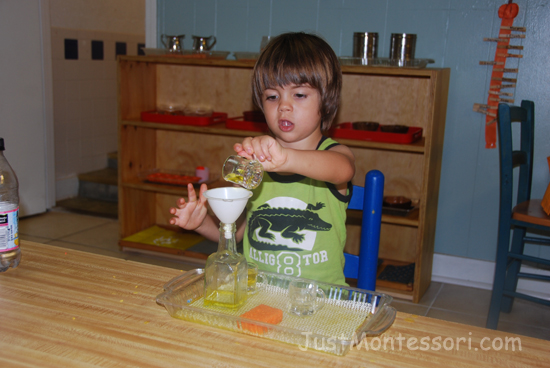 Funnel Pouring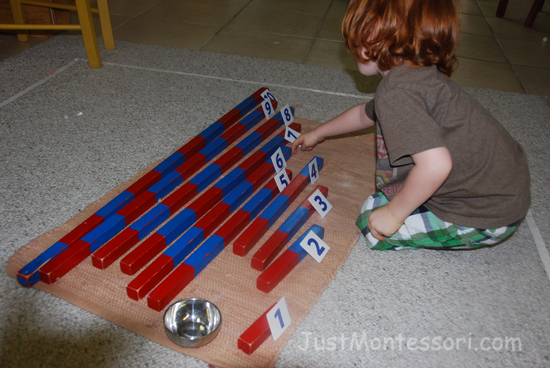 Number Rods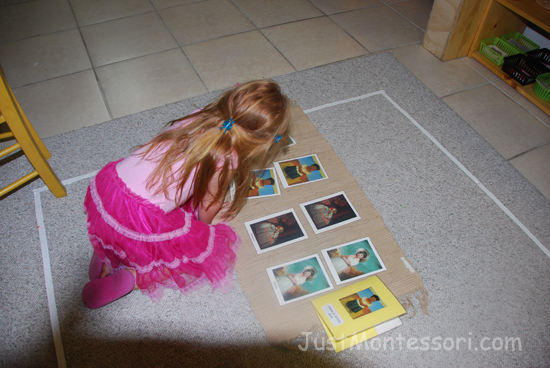 Famous Paintings - Matching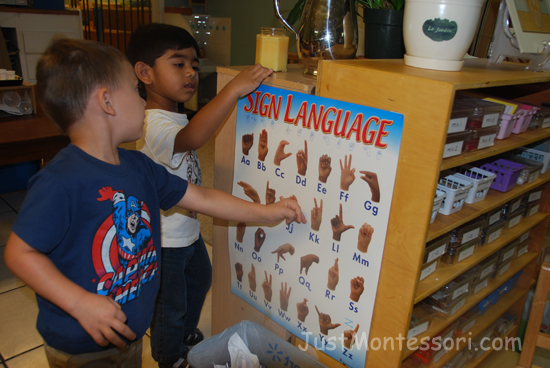 Sign Language (The children often try to make the letter shapes with their hands as they walk by the poster, great to have in the classroom at their level)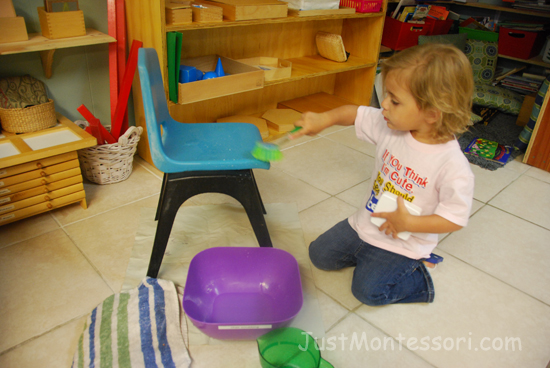 Chair Scrubbing
The Practical Life area is where the work Chair Scrubbing is found. Many of the children spend the majority of their time in this area of the classroom. If we just consider this one exercise, we can appreciate the benefits of the Practical Life Exercises and why they are so important.
The child first needs to take the bowl with the supplies inside to a work space on the floor. (A water apron can be put on, but some children do not like to wear them.) They need to set up their work by taking everything out of the bowl and arrange it on the work mat. Take the pitcher to the sink and fill it with water up to the line marked on the pitcher. Return to their mat, pour the water into the bowl, submerge the brush into the water, take 2 or 3 strokes of soap onto their brush and scrub the chair. They will next use a sponge to wipe the chair and clean the soap off. They need to towel dry the chair and return it to it place. The bowl will need to be emptied of the water and her entire area cleaned up, which includes wiping the mat of any spills, and sometimes, there is plenty of that! Place supplies back into the bowl to make it "ready' for the next friend to have a turn!
Many steps are involved. How does a child benefit? They are learning such skills as order, coordination, concentration, and independence. Great skills that they later will need and use for Math and Language to name a few. All this, and she is only 2 1/2 years old having fun cleaning a chair! The benefits of a Montessori education at a young age help to establish such a wonderful foundation for learning!