Strict Standards
: Declaration of FileAttributeKey::getList() should be compatible with AttributeKey::getList($akCategoryHandle, $filters = Array) in
/home/limarie/public_html/updates/concrete5.4.2.2/concrete/models/attribute/categories/file.php
on line
0
Strict Standards
: Declaration of FileAttributeKey::add() should be compatible with AttributeKey::add($akCategoryHandle, $type, $args, $pkg = false) in
/home/limarie/public_html/updates/concrete5.4.2.2/concrete/models/attribute/categories/file.php
on line
0
Strict Standards
: Non-static method Cache::get() should not be called statically in
/home/limarie/public_html/updates/concrete5.4.2.2/concrete/models/attribute/categories/file.php
on line
57
Strict Standards
: Non-static method Cache::key() should not be called statically in
/home/limarie/public_html/updates/concrete5.4.2.2/concrete/libraries/cache.php
on line
117
Strict Standards
: Non-static method Cache::getLibrary() should not be called statically in
/home/limarie/public_html/updates/concrete5.4.2.2/concrete/libraries/cache.php
on line
121
Strict Standards
: Non-static method Cache::key() should not be called statically in
/home/limarie/public_html/updates/concrete5.4.2.2/concrete/libraries/cache.php
on line
137
Strict Standards
: Non-static method Cache::set() should not be called statically in
/home/limarie/public_html/updates/concrete5.4.2.2/concrete/models/attribute/categories/file.php
on line
65
Strict Standards
: Non-static method Cache::key() should not be called statically in
/home/limarie/public_html/updates/concrete5.4.2.2/concrete/libraries/cache.php
on line
101
Strict Standards
: Non-static method Cache::getLibrary() should not be called statically in
/home/limarie/public_html/updates/concrete5.4.2.2/concrete/libraries/cache.php
on line
103
Strict Standards
: Non-static method Cache::key() should not be called statically in
/home/limarie/public_html/updates/concrete5.4.2.2/concrete/libraries/cache.php
on line
107
Strict Standards
: Non-static method Loader::db() should not be called statically in
/home/limarie/public_html/updates/concrete5.4.2.2/concrete/models/attribute/type.php
on line
11
Strict Standards
: Non-static method Cache::get() should not be called statically in
/home/limarie/public_html/updates/concrete5.4.2.2/concrete/models/attribute/categories/file.php
on line
57
Strict Standards
: Non-static method Cache::key() should not be called statically in
/home/limarie/public_html/updates/concrete5.4.2.2/concrete/libraries/cache.php
on line
117
Strict Standards
: Non-static method Cache::getLibrary() should not be called statically in
/home/limarie/public_html/updates/concrete5.4.2.2/concrete/libraries/cache.php
on line
121
Strict Standards
: Non-static method Cache::key() should not be called statically in
/home/limarie/public_html/updates/concrete5.4.2.2/concrete/libraries/cache.php
on line
137
Strict Standards
: Non-static method Cache::set() should not be called statically in
/home/limarie/public_html/updates/concrete5.4.2.2/concrete/models/attribute/categories/file.php
on line
65
Strict Standards
: Non-static method Cache::key() should not be called statically in
/home/limarie/public_html/updates/concrete5.4.2.2/concrete/libraries/cache.php
on line
101
Strict Standards
: Non-static method Cache::getLibrary() should not be called statically in
/home/limarie/public_html/updates/concrete5.4.2.2/concrete/libraries/cache.php
on line
103
Strict Standards
: Non-static method Cache::key() should not be called statically in
/home/limarie/public_html/updates/concrete5.4.2.2/concrete/libraries/cache.php
on line
107
Strict Standards
: Non-static method Loader::db() should not be called statically in
/home/limarie/public_html/updates/concrete5.4.2.2/concrete/models/attribute/type.php
on line
11
Strict Standards
: Non-static method Cache::get() should not be called statically in
/home/limarie/public_html/updates/concrete5.4.2.2/concrete/models/attribute/categories/file.php
on line
57
Strict Standards
: Non-static method Cache::key() should not be called statically in
/home/limarie/public_html/updates/concrete5.4.2.2/concrete/libraries/cache.php
on line
117
Strict Standards
: Non-static method Cache::key() should not be called statically in
/home/limarie/public_html/updates/concrete5.4.2.2/concrete/libraries/cache.php
on line
118
Strict Standards
: Non-static method Loader::db() should not be called statically in
/home/limarie/public_html/updates/concrete5.4.2.2/concrete/models/attribute/type.php
on line
11
Strict Standards
: Non-static method Cache::get() should not be called statically in
/home/limarie/public_html/updates/concrete5.4.2.2/concrete/models/attribute/categories/file.php
on line
57
Strict Standards
: Non-static method Cache::key() should not be called statically in
/home/limarie/public_html/updates/concrete5.4.2.2/concrete/libraries/cache.php
on line
117
Strict Standards
: Non-static method Cache::key() should not be called statically in
/home/limarie/public_html/updates/concrete5.4.2.2/concrete/libraries/cache.php
on line
118
Strict Standards
: Non-static method Loader::db() should not be called statically in
/home/limarie/public_html/updates/concrete5.4.2.2/concrete/models/attribute/type.php
on line
11
Strict Standards
: Non-static method Cache::get() should not be called statically in
/home/limarie/public_html/updates/concrete5.4.2.2/concrete/models/attribute/categories/file.php
on line
57
Strict Standards
: Non-static method Cache::key() should not be called statically in
/home/limarie/public_html/updates/concrete5.4.2.2/concrete/libraries/cache.php
on line
117
Strict Standards
: Non-static method Cache::key() should not be called statically in
/home/limarie/public_html/updates/concrete5.4.2.2/concrete/libraries/cache.php
on line
118
Strict Standards
: Non-static method Loader::db() should not be called statically in
/home/limarie/public_html/updates/concrete5.4.2.2/concrete/models/attribute/type.php
on line
11
Strict Standards
: Non-static method Cache::get() should not be called statically in
/home/limarie/public_html/updates/concrete5.4.2.2/concrete/models/attribute/categories/file.php
on line
57
Strict Standards
: Non-static method Cache::key() should not be called statically in
/home/limarie/public_html/updates/concrete5.4.2.2/concrete/libraries/cache.php
on line
117
Strict Standards
: Non-static method Cache::key() should not be called statically in
/home/limarie/public_html/updates/concrete5.4.2.2/concrete/libraries/cache.php
on line
118
Strict Standards
: Non-static method Loader::db() should not be called statically in
/home/limarie/public_html/updates/concrete5.4.2.2/concrete/models/attribute/type.php
on line
11
Strict Standards
: Non-static method Cache::get() should not be called statically in
/home/limarie/public_html/updates/concrete5.4.2.2/concrete/models/attribute/categories/file.php
on line
57
Strict Standards
: Non-static method Cache::key() should not be called statically in
/home/limarie/public_html/updates/concrete5.4.2.2/concrete/libraries/cache.php
on line
117
Strict Standards
: Non-static method Cache::key() should not be called statically in
/home/limarie/public_html/updates/concrete5.4.2.2/concrete/libraries/cache.php
on line
118
Strict Standards
: Non-static method Loader::db() should not be called statically in
/home/limarie/public_html/updates/concrete5.4.2.2/concrete/models/attribute/type.php
on line
11
Strict Standards
: Non-static method Cache::get() should not be called statically in
/home/limarie/public_html/updates/concrete5.4.2.2/concrete/models/attribute/categories/file.php
on line
57
Strict Standards
: Non-static method Cache::key() should not be called statically in
/home/limarie/public_html/updates/concrete5.4.2.2/concrete/libraries/cache.php
on line
117
Strict Standards
: Non-static method Cache::key() should not be called statically in
/home/limarie/public_html/updates/concrete5.4.2.2/concrete/libraries/cache.php
on line
118
Strict Standards
: Non-static method Loader::db() should not be called statically in
/home/limarie/public_html/updates/concrete5.4.2.2/concrete/models/attribute/type.php
on line
11
Strict Standards
: Non-static method Cache::get() should not be called statically in
/home/limarie/public_html/updates/concrete5.4.2.2/concrete/models/attribute/categories/file.php
on line
57
Strict Standards
: Non-static method Cache::key() should not be called statically in
/home/limarie/public_html/updates/concrete5.4.2.2/concrete/libraries/cache.php
on line
117
Strict Standards
: Non-static method Cache::key() should not be called statically in
/home/limarie/public_html/updates/concrete5.4.2.2/concrete/libraries/cache.php
on line
118
Strict Standards
: Non-static method Loader::db() should not be called statically in
/home/limarie/public_html/updates/concrete5.4.2.2/concrete/models/attribute/type.php
on line
11
Strict Standards
: Non-static method Cache::get() should not be called statically in
/home/limarie/public_html/updates/concrete5.4.2.2/concrete/models/attribute/categories/file.php
on line
57
Strict Standards
: Non-static method Cache::key() should not be called statically in
/home/limarie/public_html/updates/concrete5.4.2.2/concrete/libraries/cache.php
on line
117
Strict Standards
: Non-static method Cache::key() should not be called statically in
/home/limarie/public_html/updates/concrete5.4.2.2/concrete/libraries/cache.php
on line
118
Strict Standards
: Non-static method Loader::db() should not be called statically in
/home/limarie/public_html/updates/concrete5.4.2.2/concrete/models/attribute/type.php
on line
11
Strict Standards
: Non-static method Cache::get() should not be called statically in
/home/limarie/public_html/updates/concrete5.4.2.2/concrete/models/attribute/categories/file.php
on line
57
Strict Standards
: Non-static method Cache::key() should not be called statically in
/home/limarie/public_html/updates/concrete5.4.2.2/concrete/libraries/cache.php
on line
117
Strict Standards
: Non-static method Cache::key() should not be called statically in
/home/limarie/public_html/updates/concrete5.4.2.2/concrete/libraries/cache.php
on line
118
Strict Standards
: Non-static method Loader::db() should not be called statically in
/home/limarie/public_html/updates/concrete5.4.2.2/concrete/models/attribute/type.php
on line
11
Strict Standards
: Non-static method Cache::get() should not be called statically in
/home/limarie/public_html/updates/concrete5.4.2.2/concrete/models/attribute/categories/file.php
on line
57
Strict Standards
: Non-static method Cache::key() should not be called statically in
/home/limarie/public_html/updates/concrete5.4.2.2/concrete/libraries/cache.php
on line
117
Strict Standards
: Non-static method Cache::key() should not be called statically in
/home/limarie/public_html/updates/concrete5.4.2.2/concrete/libraries/cache.php
on line
118
Strict Standards
: Non-static method Loader::db() should not be called statically in
/home/limarie/public_html/updates/concrete5.4.2.2/concrete/models/attribute/type.php
on line
11
Strict Standards
: Non-static method Cache::get() should not be called statically in
/home/limarie/public_html/updates/concrete5.4.2.2/concrete/models/attribute/categories/file.php
on line
57
Strict Standards
: Non-static method Cache::key() should not be called statically in
/home/limarie/public_html/updates/concrete5.4.2.2/concrete/libraries/cache.php
on line
117
Strict Standards
: Non-static method Cache::key() should not be called statically in
/home/limarie/public_html/updates/concrete5.4.2.2/concrete/libraries/cache.php
on line
118
Strict Standards
: Non-static method Loader::db() should not be called statically in
/home/limarie/public_html/updates/concrete5.4.2.2/concrete/models/attribute/type.php
on line
11
Strict Standards
: Non-static method Cache::get() should not be called statically in
/home/limarie/public_html/updates/concrete5.4.2.2/concrete/models/attribute/categories/file.php
on line
57
Strict Standards
: Non-static method Cache::key() should not be called statically in
/home/limarie/public_html/updates/concrete5.4.2.2/concrete/libraries/cache.php
on line
117
Strict Standards
: Non-static method Cache::key() should not be called statically in
/home/limarie/public_html/updates/concrete5.4.2.2/concrete/libraries/cache.php
on line
118
Strict Standards
: Non-static method Loader::db() should not be called statically in
/home/limarie/public_html/updates/concrete5.4.2.2/concrete/models/attribute/type.php
on line
11
Strict Standards
: Non-static method Cache::get() should not be called statically in
/home/limarie/public_html/updates/concrete5.4.2.2/concrete/models/attribute/categories/file.php
on line
57
Strict Standards
: Non-static method Cache::key() should not be called statically in
/home/limarie/public_html/updates/concrete5.4.2.2/concrete/libraries/cache.php
on line
117
Strict Standards
: Non-static method Cache::key() should not be called statically in
/home/limarie/public_html/updates/concrete5.4.2.2/concrete/libraries/cache.php
on line
118
Strict Standards
: Non-static method Loader::db() should not be called statically in
/home/limarie/public_html/updates/concrete5.4.2.2/concrete/models/attribute/type.php
on line
11
Strict Standards
: Non-static method Cache::get() should not be called statically in
/home/limarie/public_html/updates/concrete5.4.2.2/concrete/models/attribute/categories/file.php
on line
57
Strict Standards
: Non-static method Cache::key() should not be called statically in
/home/limarie/public_html/updates/concrete5.4.2.2/concrete/libraries/cache.php
on line
117
Strict Standards
: Non-static method Cache::key() should not be called statically in
/home/limarie/public_html/updates/concrete5.4.2.2/concrete/libraries/cache.php
on line
118
Strict Standards
: Non-static method Loader::db() should not be called statically in
/home/limarie/public_html/updates/concrete5.4.2.2/concrete/models/attribute/type.php
on line
11
Strict Standards
: Non-static method Cache::get() should not be called statically in
/home/limarie/public_html/updates/concrete5.4.2.2/concrete/models/attribute/categories/file.php
on line
57
Strict Standards
: Non-static method Cache::key() should not be called statically in
/home/limarie/public_html/updates/concrete5.4.2.2/concrete/libraries/cache.php
on line
117
Strict Standards
: Non-static method Cache::key() should not be called statically in
/home/limarie/public_html/updates/concrete5.4.2.2/concrete/libraries/cache.php
on line
118
Strict Standards
: Non-static method Loader::db() should not be called statically in
/home/limarie/public_html/updates/concrete5.4.2.2/concrete/models/attribute/type.php
on line
11
Strict Standards
: Non-static method Cache::get() should not be called statically in
/home/limarie/public_html/updates/concrete5.4.2.2/concrete/models/attribute/categories/file.php
on line
57
Strict Standards
: Non-static method Cache::key() should not be called statically in
/home/limarie/public_html/updates/concrete5.4.2.2/concrete/libraries/cache.php
on line
117
Strict Standards
: Non-static method Cache::key() should not be called statically in
/home/limarie/public_html/updates/concrete5.4.2.2/concrete/libraries/cache.php
on line
118
Strict Standards
: Non-static method Loader::db() should not be called statically in
/home/limarie/public_html/updates/concrete5.4.2.2/concrete/models/attribute/type.php
on line
11
Strict Standards
: Non-static method Cache::get() should not be called statically in
/home/limarie/public_html/updates/concrete5.4.2.2/concrete/models/attribute/categories/file.php
on line
57
Strict Standards
: Non-static method Cache::key() should not be called statically in
/home/limarie/public_html/updates/concrete5.4.2.2/concrete/libraries/cache.php
on line
117
Strict Standards
: Non-static method Cache::key() should not be called statically in
/home/limarie/public_html/updates/concrete5.4.2.2/concrete/libraries/cache.php
on line
118
Strict Standards
: Non-static method Loader::db() should not be called statically in
/home/limarie/public_html/updates/concrete5.4.2.2/concrete/models/attribute/type.php
on line
11
Strict Standards
: Non-static method Cache::get() should not be called statically in
/home/limarie/public_html/updates/concrete5.4.2.2/concrete/models/attribute/categories/file.php
on line
57
Strict Standards
: Non-static method Cache::key() should not be called statically in
/home/limarie/public_html/updates/concrete5.4.2.2/concrete/libraries/cache.php
on line
117
Strict Standards
: Non-static method Cache::key() should not be called statically in
/home/limarie/public_html/updates/concrete5.4.2.2/concrete/libraries/cache.php
on line
118
Strict Standards
: Non-static method Loader::db() should not be called statically in
/home/limarie/public_html/updates/concrete5.4.2.2/concrete/models/attribute/type.php
on line
11
Strict Standards
: Non-static method Cache::get() should not be called statically in
/home/limarie/public_html/updates/concrete5.4.2.2/concrete/models/attribute/categories/file.php
on line
57
Strict Standards
: Non-static method Cache::key() should not be called statically in
/home/limarie/public_html/updates/concrete5.4.2.2/concrete/libraries/cache.php
on line
117
Strict Standards
: Non-static method Cache::key() should not be called statically in
/home/limarie/public_html/updates/concrete5.4.2.2/concrete/libraries/cache.php
on line
118
Strict Standards
: Non-static method Loader::db() should not be called statically in
/home/limarie/public_html/updates/concrete5.4.2.2/concrete/models/attribute/type.php
on line
11
Strict Standards
: Non-static method Cache::get() should not be called statically in
/home/limarie/public_html/updates/concrete5.4.2.2/concrete/models/attribute/categories/file.php
on line
57
Strict Standards
: Non-static method Cache::key() should not be called statically in
/home/limarie/public_html/updates/concrete5.4.2.2/concrete/libraries/cache.php
on line
117
Strict Standards
: Non-static method Cache::key() should not be called statically in
/home/limarie/public_html/updates/concrete5.4.2.2/concrete/libraries/cache.php
on line
118
Strict Standards
: Non-static method Loader::db() should not be called statically in
/home/limarie/public_html/updates/concrete5.4.2.2/concrete/models/attribute/type.php
on line
11
Strict Standards
: Non-static method Cache::get() should not be called statically in
/home/limarie/public_html/updates/concrete5.4.2.2/concrete/models/attribute/categories/file.php
on line
57
Strict Standards
: Non-static method Cache::key() should not be called statically in
/home/limarie/public_html/updates/concrete5.4.2.2/concrete/libraries/cache.php
on line
117
Strict Standards
: Non-static method Cache::key() should not be called statically in
/home/limarie/public_html/updates/concrete5.4.2.2/concrete/libraries/cache.php
on line
118
Strict Standards
: Non-static method Loader::db() should not be called statically in
/home/limarie/public_html/updates/concrete5.4.2.2/concrete/models/attribute/type.php
on line
11
Strict Standards
: Non-static method Cache::get() should not be called statically in
/home/limarie/public_html/updates/concrete5.4.2.2/concrete/models/attribute/categories/file.php
on line
57
Strict Standards
: Non-static method Cache::key() should not be called statically in
/home/limarie/public_html/updates/concrete5.4.2.2/concrete/libraries/cache.php
on line
117
Strict Standards
: Non-static method Cache::key() should not be called statically in
/home/limarie/public_html/updates/concrete5.4.2.2/concrete/libraries/cache.php
on line
118
Strict Standards
: Non-static method Loader::db() should not be called statically in
/home/limarie/public_html/updates/concrete5.4.2.2/concrete/models/attribute/type.php
on line
11
Strict Standards
: Non-static method Cache::get() should not be called statically in
/home/limarie/public_html/updates/concrete5.4.2.2/concrete/models/attribute/categories/file.php
on line
57
Strict Standards
: Non-static method Cache::key() should not be called statically in
/home/limarie/public_html/updates/concrete5.4.2.2/concrete/libraries/cache.php
on line
117
Strict Standards
: Non-static method Cache::key() should not be called statically in
/home/limarie/public_html/updates/concrete5.4.2.2/concrete/libraries/cache.php
on line
118
Strict Standards
: Non-static method Loader::db() should not be called statically in
/home/limarie/public_html/updates/concrete5.4.2.2/concrete/models/attribute/type.php
on line
11
Strict Standards
: Non-static method Cache::get() should not be called statically in
/home/limarie/public_html/updates/concrete5.4.2.2/concrete/models/attribute/categories/file.php
on line
57
Strict Standards
: Non-static method Cache::key() should not be called statically in
/home/limarie/public_html/updates/concrete5.4.2.2/concrete/libraries/cache.php
on line
117
Strict Standards
: Non-static method Cache::key() should not be called statically in
/home/limarie/public_html/updates/concrete5.4.2.2/concrete/libraries/cache.php
on line
118
Strict Standards
: Non-static method Loader::db() should not be called statically in
/home/limarie/public_html/updates/concrete5.4.2.2/concrete/models/attribute/type.php
on line
11
Strict Standards
: Non-static method Cache::get() should not be called statically in
/home/limarie/public_html/updates/concrete5.4.2.2/concrete/models/attribute/categories/file.php
on line
57
Strict Standards
: Non-static method Cache::key() should not be called statically in
/home/limarie/public_html/updates/concrete5.4.2.2/concrete/libraries/cache.php
on line
117
Strict Standards
: Non-static method Cache::key() should not be called statically in
/home/limarie/public_html/updates/concrete5.4.2.2/concrete/libraries/cache.php
on line
118
Strict Standards
: Non-static method Loader::db() should not be called statically in
/home/limarie/public_html/updates/concrete5.4.2.2/concrete/models/attribute/type.php
on line
11
Strict Standards
: Non-static method Cache::get() should not be called statically in
/home/limarie/public_html/updates/concrete5.4.2.2/concrete/models/attribute/categories/file.php
on line
57
Strict Standards
: Non-static method Cache::key() should not be called statically in
/home/limarie/public_html/updates/concrete5.4.2.2/concrete/libraries/cache.php
on line
117
Strict Standards
: Non-static method Cache::key() should not be called statically in
/home/limarie/public_html/updates/concrete5.4.2.2/concrete/libraries/cache.php
on line
118
Strict Standards
: Non-static method Loader::db() should not be called statically in
/home/limarie/public_html/updates/concrete5.4.2.2/concrete/models/attribute/type.php
on line
11
Strict Standards
: Non-static method Cache::get() should not be called statically in
/home/limarie/public_html/updates/concrete5.4.2.2/concrete/models/attribute/categories/file.php
on line
57
Strict Standards
: Non-static method Cache::key() should not be called statically in
/home/limarie/public_html/updates/concrete5.4.2.2/concrete/libraries/cache.php
on line
117
Strict Standards
: Non-static method Cache::key() should not be called statically in
/home/limarie/public_html/updates/concrete5.4.2.2/concrete/libraries/cache.php
on line
118
Strict Standards
: Non-static method Loader::db() should not be called statically in
/home/limarie/public_html/updates/concrete5.4.2.2/concrete/models/attribute/type.php
on line
11
Strict Standards
: Non-static method Cache::get() should not be called statically in
/home/limarie/public_html/updates/concrete5.4.2.2/concrete/models/attribute/categories/file.php
on line
57
Strict Standards
: Non-static method Cache::key() should not be called statically in
/home/limarie/public_html/updates/concrete5.4.2.2/concrete/libraries/cache.php
on line
117
Strict Standards
: Non-static method Cache::key() should not be called statically in
/home/limarie/public_html/updates/concrete5.4.2.2/concrete/libraries/cache.php
on line
118
Strict Standards
: Non-static method Loader::db() should not be called statically in
/home/limarie/public_html/updates/concrete5.4.2.2/concrete/models/attribute/type.php
on line
11
Strict Standards
: Non-static method Cache::get() should not be called statically in
/home/limarie/public_html/updates/concrete5.4.2.2/concrete/models/file.php
on line
80
Strict Standards
: Non-static method Cache::key() should not be called statically in
/home/limarie/public_html/updates/concrete5.4.2.2/concrete/libraries/cache.php
on line
117
Strict Standards
: Non-static method Cache::getLibrary() should not be called statically in
/home/limarie/public_html/updates/concrete5.4.2.2/concrete/libraries/cache.php
on line
121
Strict Standards
: Non-static method Cache::key() should not be called statically in
/home/limarie/public_html/updates/concrete5.4.2.2/concrete/libraries/cache.php
on line
137
Strict Standards
: Non-static method File::getByID() should not be called statically in
/home/limarie/public_html/updates/concrete5.4.2.2/concrete/models/file.php
on line
85
Strict Standards
: Non-static method Cache::get() should not be called statically in
/home/limarie/public_html/updates/concrete5.4.2.2/concrete/models/file.php
on line
17
Strict Standards
: Non-static method Cache::key() should not be called statically in
/home/limarie/public_html/updates/concrete5.4.2.2/concrete/libraries/cache.php
on line
117
Strict Standards
: Non-static method Cache::key() should not be called statically in
/home/limarie/public_html/updates/concrete5.4.2.2/concrete/libraries/cache.php
on line
118
Strict Standards
: Non-static method Cache::set() should not be called statically in
/home/limarie/public_html/updates/concrete5.4.2.2/concrete/models/file.php
on line
88
Strict Standards
: Non-static method Cache::key() should not be called statically in
/home/limarie/public_html/updates/concrete5.4.2.2/concrete/libraries/cache.php
on line
101
Strict Standards
: Non-static method Cache::getLibrary() should not be called statically in
/home/limarie/public_html/updates/concrete5.4.2.2/concrete/libraries/cache.php
on line
103
Strict Standards
: Non-static method Cache::key() should not be called statically in
/home/limarie/public_html/updates/concrete5.4.2.2/concrete/libraries/cache.php
on line
107
Strict Standards
: Non-static method Cache::get() should not be called statically in
/home/limarie/public_html/updates/concrete5.4.2.2/concrete/models/file.php
on line
80
Strict Standards
: Non-static method Cache::key() should not be called statically in
/home/limarie/public_html/updates/concrete5.4.2.2/concrete/libraries/cache.php
on line
117
Strict Standards
: Non-static method Cache::getLibrary() should not be called statically in
/home/limarie/public_html/updates/concrete5.4.2.2/concrete/libraries/cache.php
on line
121
Strict Standards
: Non-static method Cache::key() should not be called statically in
/home/limarie/public_html/updates/concrete5.4.2.2/concrete/libraries/cache.php
on line
137
Strict Standards
: Non-static method File::getByID() should not be called statically in
/home/limarie/public_html/updates/concrete5.4.2.2/concrete/models/file.php
on line
85
Strict Standards
: Non-static method Cache::get() should not be called statically in
/home/limarie/public_html/updates/concrete5.4.2.2/concrete/models/file.php
on line
17
Strict Standards
: Non-static method Cache::key() should not be called statically in
/home/limarie/public_html/updates/concrete5.4.2.2/concrete/libraries/cache.php
on line
117
Strict Standards
: Non-static method Cache::key() should not be called statically in
/home/limarie/public_html/updates/concrete5.4.2.2/concrete/libraries/cache.php
on line
118
Strict Standards
: Non-static method Cache::set() should not be called statically in
/home/limarie/public_html/updates/concrete5.4.2.2/concrete/models/file.php
on line
88
Strict Standards
: Non-static method Cache::key() should not be called statically in
/home/limarie/public_html/updates/concrete5.4.2.2/concrete/libraries/cache.php
on line
101
Strict Standards
: Non-static method Cache::getLibrary() should not be called statically in
/home/limarie/public_html/updates/concrete5.4.2.2/concrete/libraries/cache.php
on line
103
Strict Standards
: Non-static method Cache::key() should not be called statically in
/home/limarie/public_html/updates/concrete5.4.2.2/concrete/libraries/cache.php
on line
107
Strict Standards
: Non-static method Cache::get() should not be called statically in
/home/limarie/public_html/updates/concrete5.4.2.2/concrete/models/file.php
on line
80
Strict Standards
: Non-static method Cache::key() should not be called statically in
/home/limarie/public_html/updates/concrete5.4.2.2/concrete/libraries/cache.php
on line
117
Strict Standards
: Non-static method Cache::getLibrary() should not be called statically in
/home/limarie/public_html/updates/concrete5.4.2.2/concrete/libraries/cache.php
on line
121
Strict Standards
: Non-static method Cache::key() should not be called statically in
/home/limarie/public_html/updates/concrete5.4.2.2/concrete/libraries/cache.php
on line
137
Strict Standards
: Non-static method File::getByID() should not be called statically in
/home/limarie/public_html/updates/concrete5.4.2.2/concrete/models/file.php
on line
85
Strict Standards
: Non-static method Cache::get() should not be called statically in
/home/limarie/public_html/updates/concrete5.4.2.2/concrete/models/file.php
on line
17
Strict Standards
: Non-static method Cache::key() should not be called statically in
/home/limarie/public_html/updates/concrete5.4.2.2/concrete/libraries/cache.php
on line
117
Strict Standards
: Non-static method Cache::key() should not be called statically in
/home/limarie/public_html/updates/concrete5.4.2.2/concrete/libraries/cache.php
on line
118
Strict Standards
: Non-static method Cache::set() should not be called statically in
/home/limarie/public_html/updates/concrete5.4.2.2/concrete/models/file.php
on line
88
Strict Standards
: Non-static method Cache::key() should not be called statically in
/home/limarie/public_html/updates/concrete5.4.2.2/concrete/libraries/cache.php
on line
101
Strict Standards
: Non-static method Cache::getLibrary() should not be called statically in
/home/limarie/public_html/updates/concrete5.4.2.2/concrete/libraries/cache.php
on line
103
Strict Standards
: Non-static method Cache::key() should not be called statically in
/home/limarie/public_html/updates/concrete5.4.2.2/concrete/libraries/cache.php
on line
107
Strict Standards
: Non-static method Cache::get() should not be called statically in
/home/limarie/public_html/updates/concrete5.4.2.2/concrete/models/file.php
on line
80
Strict Standards
: Non-static method Cache::key() should not be called statically in
/home/limarie/public_html/updates/concrete5.4.2.2/concrete/libraries/cache.php
on line
117
Strict Standards
: Non-static method Cache::getLibrary() should not be called statically in
/home/limarie/public_html/updates/concrete5.4.2.2/concrete/libraries/cache.php
on line
121
Strict Standards
: Non-static method Cache::key() should not be called statically in
/home/limarie/public_html/updates/concrete5.4.2.2/concrete/libraries/cache.php
on line
137
Strict Standards
: Non-static method File::getByID() should not be called statically in
/home/limarie/public_html/updates/concrete5.4.2.2/concrete/models/file.php
on line
85
Strict Standards
: Non-static method Cache::get() should not be called statically in
/home/limarie/public_html/updates/concrete5.4.2.2/concrete/models/file.php
on line
17
Strict Standards
: Non-static method Cache::key() should not be called statically in
/home/limarie/public_html/updates/concrete5.4.2.2/concrete/libraries/cache.php
on line
117
Strict Standards
: Non-static method Cache::key() should not be called statically in
/home/limarie/public_html/updates/concrete5.4.2.2/concrete/libraries/cache.php
on line
118
Strict Standards
: Non-static method Cache::set() should not be called statically in
/home/limarie/public_html/updates/concrete5.4.2.2/concrete/models/file.php
on line
88
Strict Standards
: Non-static method Cache::key() should not be called statically in
/home/limarie/public_html/updates/concrete5.4.2.2/concrete/libraries/cache.php
on line
101
Strict Standards
: Non-static method Cache::getLibrary() should not be called statically in
/home/limarie/public_html/updates/concrete5.4.2.2/concrete/libraries/cache.php
on line
103
Strict Standards
: Non-static method Cache::key() should not be called statically in
/home/limarie/public_html/updates/concrete5.4.2.2/concrete/libraries/cache.php
on line
107
Strict Standards
: Non-static method Cache::get() should not be called statically in
/home/limarie/public_html/updates/concrete5.4.2.2/concrete/models/file.php
on line
80
Strict Standards
: Non-static method Cache::key() should not be called statically in
/home/limarie/public_html/updates/concrete5.4.2.2/concrete/libraries/cache.php
on line
117
Strict Standards
: Non-static method Cache::getLibrary() should not be called statically in
/home/limarie/public_html/updates/concrete5.4.2.2/concrete/libraries/cache.php
on line
121
Strict Standards
: Non-static method Cache::key() should not be called statically in
/home/limarie/public_html/updates/concrete5.4.2.2/concrete/libraries/cache.php
on line
137
Strict Standards
: Non-static method File::getByID() should not be called statically in
/home/limarie/public_html/updates/concrete5.4.2.2/concrete/models/file.php
on line
85
Strict Standards
: Non-static method Cache::get() should not be called statically in
/home/limarie/public_html/updates/concrete5.4.2.2/concrete/models/file.php
on line
17
Strict Standards
: Non-static method Cache::key() should not be called statically in
/home/limarie/public_html/updates/concrete5.4.2.2/concrete/libraries/cache.php
on line
117
Strict Standards
: Non-static method Cache::key() should not be called statically in
/home/limarie/public_html/updates/concrete5.4.2.2/concrete/libraries/cache.php
on line
118
Strict Standards
: Non-static method Cache::set() should not be called statically in
/home/limarie/public_html/updates/concrete5.4.2.2/concrete/models/file.php
on line
88
Strict Standards
: Non-static method Cache::key() should not be called statically in
/home/limarie/public_html/updates/concrete5.4.2.2/concrete/libraries/cache.php
on line
101
Strict Standards
: Non-static method Cache::getLibrary() should not be called statically in
/home/limarie/public_html/updates/concrete5.4.2.2/concrete/libraries/cache.php
on line
103
Strict Standards
: Non-static method Cache::key() should not be called statically in
/home/limarie/public_html/updates/concrete5.4.2.2/concrete/libraries/cache.php
on line
107
Strict Standards
: Non-static method Cache::get() should not be called statically in
/home/limarie/public_html/updates/concrete5.4.2.2/concrete/models/file.php
on line
80
Strict Standards
: Non-static method Cache::key() should not be called statically in
/home/limarie/public_html/updates/concrete5.4.2.2/concrete/libraries/cache.php
on line
117
Strict Standards
: Non-static method Cache::getLibrary() should not be called statically in
/home/limarie/public_html/updates/concrete5.4.2.2/concrete/libraries/cache.php
on line
121
Strict Standards
: Non-static method Cache::key() should not be called statically in
/home/limarie/public_html/updates/concrete5.4.2.2/concrete/libraries/cache.php
on line
137
Strict Standards
: Non-static method File::getByID() should not be called statically in
/home/limarie/public_html/updates/concrete5.4.2.2/concrete/models/file.php
on line
85
Strict Standards
: Non-static method Cache::get() should not be called statically in
/home/limarie/public_html/updates/concrete5.4.2.2/concrete/models/file.php
on line
17
Strict Standards
: Non-static method Cache::key() should not be called statically in
/home/limarie/public_html/updates/concrete5.4.2.2/concrete/libraries/cache.php
on line
117
Strict Standards
: Non-static method Cache::key() should not be called statically in
/home/limarie/public_html/updates/concrete5.4.2.2/concrete/libraries/cache.php
on line
118
Strict Standards
: Non-static method Cache::set() should not be called statically in
/home/limarie/public_html/updates/concrete5.4.2.2/concrete/models/file.php
on line
88
Strict Standards
: Non-static method Cache::key() should not be called statically in
/home/limarie/public_html/updates/concrete5.4.2.2/concrete/libraries/cache.php
on line
101
Strict Standards
: Non-static method Cache::getLibrary() should not be called statically in
/home/limarie/public_html/updates/concrete5.4.2.2/concrete/libraries/cache.php
on line
103
Strict Standards
: Non-static method Cache::key() should not be called statically in
/home/limarie/public_html/updates/concrete5.4.2.2/concrete/libraries/cache.php
on line
107
Strict Standards
: Non-static method Cache::get() should not be called statically in
/home/limarie/public_html/updates/concrete5.4.2.2/concrete/models/file.php
on line
80
Strict Standards
: Non-static method Cache::key() should not be called statically in
/home/limarie/public_html/updates/concrete5.4.2.2/concrete/libraries/cache.php
on line
117
Strict Standards
: Non-static method Cache::getLibrary() should not be called statically in
/home/limarie/public_html/updates/concrete5.4.2.2/concrete/libraries/cache.php
on line
121
Strict Standards
: Non-static method Cache::key() should not be called statically in
/home/limarie/public_html/updates/concrete5.4.2.2/concrete/libraries/cache.php
on line
137
Strict Standards
: Non-static method File::getByID() should not be called statically in
/home/limarie/public_html/updates/concrete5.4.2.2/concrete/models/file.php
on line
85
Strict Standards
: Non-static method Cache::get() should not be called statically in
/home/limarie/public_html/updates/concrete5.4.2.2/concrete/models/file.php
on line
17
Strict Standards
: Non-static method Cache::key() should not be called statically in
/home/limarie/public_html/updates/concrete5.4.2.2/concrete/libraries/cache.php
on line
117
Strict Standards
: Non-static method Cache::key() should not be called statically in
/home/limarie/public_html/updates/concrete5.4.2.2/concrete/libraries/cache.php
on line
118
Strict Standards
: Non-static method Cache::set() should not be called statically in
/home/limarie/public_html/updates/concrete5.4.2.2/concrete/models/file.php
on line
88
Strict Standards
: Non-static method Cache::key() should not be called statically in
/home/limarie/public_html/updates/concrete5.4.2.2/concrete/libraries/cache.php
on line
101
Strict Standards
: Non-static method Cache::getLibrary() should not be called statically in
/home/limarie/public_html/updates/concrete5.4.2.2/concrete/libraries/cache.php
on line
103
Strict Standards
: Non-static method Cache::key() should not be called statically in
/home/limarie/public_html/updates/concrete5.4.2.2/concrete/libraries/cache.php
on line
107
Strict Standards
: Non-static method Cache::get() should not be called statically in
/home/limarie/public_html/updates/concrete5.4.2.2/concrete/models/file.php
on line
80
Strict Standards
: Non-static method Cache::key() should not be called statically in
/home/limarie/public_html/updates/concrete5.4.2.2/concrete/libraries/cache.php
on line
117
Strict Standards
: Non-static method Cache::getLibrary() should not be called statically in
/home/limarie/public_html/updates/concrete5.4.2.2/concrete/libraries/cache.php
on line
121
Strict Standards
: Non-static method Cache::key() should not be called statically in
/home/limarie/public_html/updates/concrete5.4.2.2/concrete/libraries/cache.php
on line
137
Strict Standards
: Non-static method File::getByID() should not be called statically in
/home/limarie/public_html/updates/concrete5.4.2.2/concrete/models/file.php
on line
85
Strict Standards
: Non-static method Cache::get() should not be called statically in
/home/limarie/public_html/updates/concrete5.4.2.2/concrete/models/file.php
on line
17
Strict Standards
: Non-static method Cache::key() should not be called statically in
/home/limarie/public_html/updates/concrete5.4.2.2/concrete/libraries/cache.php
on line
117
Strict Standards
: Non-static method Cache::key() should not be called statically in
/home/limarie/public_html/updates/concrete5.4.2.2/concrete/libraries/cache.php
on line
118
Strict Standards
: Non-static method Cache::set() should not be called statically in
/home/limarie/public_html/updates/concrete5.4.2.2/concrete/models/file.php
on line
88
Strict Standards
: Non-static method Cache::key() should not be called statically in
/home/limarie/public_html/updates/concrete5.4.2.2/concrete/libraries/cache.php
on line
101
Strict Standards
: Non-static method Cache::getLibrary() should not be called statically in
/home/limarie/public_html/updates/concrete5.4.2.2/concrete/libraries/cache.php
on line
103
Strict Standards
: Non-static method Cache::key() should not be called statically in
/home/limarie/public_html/updates/concrete5.4.2.2/concrete/libraries/cache.php
on line
107
Strict Standards
: Non-static method Cache::get() should not be called statically in
/home/limarie/public_html/updates/concrete5.4.2.2/concrete/models/file.php
on line
80
Strict Standards
: Non-static method Cache::key() should not be called statically in
/home/limarie/public_html/updates/concrete5.4.2.2/concrete/libraries/cache.php
on line
117
Strict Standards
: Non-static method Cache::getLibrary() should not be called statically in
/home/limarie/public_html/updates/concrete5.4.2.2/concrete/libraries/cache.php
on line
121
Strict Standards
: Non-static method Cache::key() should not be called statically in
/home/limarie/public_html/updates/concrete5.4.2.2/concrete/libraries/cache.php
on line
137
Strict Standards
: Non-static method File::getByID() should not be called statically in
/home/limarie/public_html/updates/concrete5.4.2.2/concrete/models/file.php
on line
85
Strict Standards
: Non-static method Cache::get() should not be called statically in
/home/limarie/public_html/updates/concrete5.4.2.2/concrete/models/file.php
on line
17
Strict Standards
: Non-static method Cache::key() should not be called statically in
/home/limarie/public_html/updates/concrete5.4.2.2/concrete/libraries/cache.php
on line
117
Strict Standards
: Non-static method Cache::key() should not be called statically in
/home/limarie/public_html/updates/concrete5.4.2.2/concrete/libraries/cache.php
on line
118
Strict Standards
: Non-static method Cache::set() should not be called statically in
/home/limarie/public_html/updates/concrete5.4.2.2/concrete/models/file.php
on line
88
Strict Standards
: Non-static method Cache::key() should not be called statically in
/home/limarie/public_html/updates/concrete5.4.2.2/concrete/libraries/cache.php
on line
101
Strict Standards
: Non-static method Cache::getLibrary() should not be called statically in
/home/limarie/public_html/updates/concrete5.4.2.2/concrete/libraries/cache.php
on line
103
Strict Standards
: Non-static method Cache::key() should not be called statically in
/home/limarie/public_html/updates/concrete5.4.2.2/concrete/libraries/cache.php
on line
107
Strict Standards
: Non-static method Cache::get() should not be called statically in
/home/limarie/public_html/updates/concrete5.4.2.2/concrete/models/file.php
on line
80
Strict Standards
: Non-static method Cache::key() should not be called statically in
/home/limarie/public_html/updates/concrete5.4.2.2/concrete/libraries/cache.php
on line
117
Strict Standards
: Non-static method Cache::getLibrary() should not be called statically in
/home/limarie/public_html/updates/concrete5.4.2.2/concrete/libraries/cache.php
on line
121
Strict Standards
: Non-static method Cache::key() should not be called statically in
/home/limarie/public_html/updates/concrete5.4.2.2/concrete/libraries/cache.php
on line
137
Strict Standards
: Non-static method File::getByID() should not be called statically in
/home/limarie/public_html/updates/concrete5.4.2.2/concrete/models/file.php
on line
85
Strict Standards
: Non-static method Cache::get() should not be called statically in
/home/limarie/public_html/updates/concrete5.4.2.2/concrete/models/file.php
on line
17
Strict Standards
: Non-static method Cache::key() should not be called statically in
/home/limarie/public_html/updates/concrete5.4.2.2/concrete/libraries/cache.php
on line
117
Strict Standards
: Non-static method Cache::key() should not be called statically in
/home/limarie/public_html/updates/concrete5.4.2.2/concrete/libraries/cache.php
on line
118
Strict Standards
: Non-static method Cache::set() should not be called statically in
/home/limarie/public_html/updates/concrete5.4.2.2/concrete/models/file.php
on line
88
Strict Standards
: Non-static method Cache::key() should not be called statically in
/home/limarie/public_html/updates/concrete5.4.2.2/concrete/libraries/cache.php
on line
101
Strict Standards
: Non-static method Cache::getLibrary() should not be called statically in
/home/limarie/public_html/updates/concrete5.4.2.2/concrete/libraries/cache.php
on line
103
Strict Standards
: Non-static method Cache::key() should not be called statically in
/home/limarie/public_html/updates/concrete5.4.2.2/concrete/libraries/cache.php
on line
107
Strict Standards
: Non-static method Cache::get() should not be called statically in
/home/limarie/public_html/updates/concrete5.4.2.2/concrete/models/file.php
on line
80
Strict Standards
: Non-static method Cache::key() should not be called statically in
/home/limarie/public_html/updates/concrete5.4.2.2/concrete/libraries/cache.php
on line
117
Strict Standards
: Non-static method Cache::getLibrary() should not be called statically in
/home/limarie/public_html/updates/concrete5.4.2.2/concrete/libraries/cache.php
on line
121
Strict Standards
: Non-static method Cache::key() should not be called statically in
/home/limarie/public_html/updates/concrete5.4.2.2/concrete/libraries/cache.php
on line
137
Strict Standards
: Non-static method File::getByID() should not be called statically in
/home/limarie/public_html/updates/concrete5.4.2.2/concrete/models/file.php
on line
85
Strict Standards
: Non-static method Cache::get() should not be called statically in
/home/limarie/public_html/updates/concrete5.4.2.2/concrete/models/file.php
on line
17
Strict Standards
: Non-static method Cache::key() should not be called statically in
/home/limarie/public_html/updates/concrete5.4.2.2/concrete/libraries/cache.php
on line
117
Strict Standards
: Non-static method Cache::key() should not be called statically in
/home/limarie/public_html/updates/concrete5.4.2.2/concrete/libraries/cache.php
on line
118
Strict Standards
: Non-static method Cache::set() should not be called statically in
/home/limarie/public_html/updates/concrete5.4.2.2/concrete/models/file.php
on line
88
Strict Standards
: Non-static method Cache::key() should not be called statically in
/home/limarie/public_html/updates/concrete5.4.2.2/concrete/libraries/cache.php
on line
101
Strict Standards
: Non-static method Cache::getLibrary() should not be called statically in
/home/limarie/public_html/updates/concrete5.4.2.2/concrete/libraries/cache.php
on line
103
Strict Standards
: Non-static method Cache::key() should not be called statically in
/home/limarie/public_html/updates/concrete5.4.2.2/concrete/libraries/cache.php
on line
107
Strict Standards
: Non-static method Cache::get() should not be called statically in
/home/limarie/public_html/updates/concrete5.4.2.2/concrete/models/file.php
on line
80
Strict Standards
: Non-static method Cache::key() should not be called statically in
/home/limarie/public_html/updates/concrete5.4.2.2/concrete/libraries/cache.php
on line
117
Strict Standards
: Non-static method Cache::getLibrary() should not be called statically in
/home/limarie/public_html/updates/concrete5.4.2.2/concrete/libraries/cache.php
on line
121
Strict Standards
: Non-static method Cache::key() should not be called statically in
/home/limarie/public_html/updates/concrete5.4.2.2/concrete/libraries/cache.php
on line
137
Strict Standards
: Non-static method File::getByID() should not be called statically in
/home/limarie/public_html/updates/concrete5.4.2.2/concrete/models/file.php
on line
85
Strict Standards
: Non-static method Cache::get() should not be called statically in
/home/limarie/public_html/updates/concrete5.4.2.2/concrete/models/file.php
on line
17
Strict Standards
: Non-static method Cache::key() should not be called statically in
/home/limarie/public_html/updates/concrete5.4.2.2/concrete/libraries/cache.php
on line
117
Strict Standards
: Non-static method Cache::key() should not be called statically in
/home/limarie/public_html/updates/concrete5.4.2.2/concrete/libraries/cache.php
on line
118
Strict Standards
: Non-static method Cache::set() should not be called statically in
/home/limarie/public_html/updates/concrete5.4.2.2/concrete/models/file.php
on line
88
Strict Standards
: Non-static method Cache::key() should not be called statically in
/home/limarie/public_html/updates/concrete5.4.2.2/concrete/libraries/cache.php
on line
101
Strict Standards
: Non-static method Cache::getLibrary() should not be called statically in
/home/limarie/public_html/updates/concrete5.4.2.2/concrete/libraries/cache.php
on line
103
Strict Standards
: Non-static method Cache::key() should not be called statically in
/home/limarie/public_html/updates/concrete5.4.2.2/concrete/libraries/cache.php
on line
107
Strict Standards
: Non-static method Cache::get() should not be called statically in
/home/limarie/public_html/updates/concrete5.4.2.2/concrete/models/file.php
on line
80
Strict Standards
: Non-static method Cache::key() should not be called statically in
/home/limarie/public_html/updates/concrete5.4.2.2/concrete/libraries/cache.php
on line
117
Strict Standards
: Non-static method Cache::getLibrary() should not be called statically in
/home/limarie/public_html/updates/concrete5.4.2.2/concrete/libraries/cache.php
on line
121
Strict Standards
: Non-static method Cache::key() should not be called statically in
/home/limarie/public_html/updates/concrete5.4.2.2/concrete/libraries/cache.php
on line
137
Strict Standards
: Non-static method File::getByID() should not be called statically in
/home/limarie/public_html/updates/concrete5.4.2.2/concrete/models/file.php
on line
85
Strict Standards
: Non-static method Cache::get() should not be called statically in
/home/limarie/public_html/updates/concrete5.4.2.2/concrete/models/file.php
on line
17
Strict Standards
: Non-static method Cache::key() should not be called statically in
/home/limarie/public_html/updates/concrete5.4.2.2/concrete/libraries/cache.php
on line
117
Strict Standards
: Non-static method Cache::key() should not be called statically in
/home/limarie/public_html/updates/concrete5.4.2.2/concrete/libraries/cache.php
on line
118
Strict Standards
: Non-static method Cache::set() should not be called statically in
/home/limarie/public_html/updates/concrete5.4.2.2/concrete/models/file.php
on line
88
Strict Standards
: Non-static method Cache::key() should not be called statically in
/home/limarie/public_html/updates/concrete5.4.2.2/concrete/libraries/cache.php
on line
101
Strict Standards
: Non-static method Cache::getLibrary() should not be called statically in
/home/limarie/public_html/updates/concrete5.4.2.2/concrete/libraries/cache.php
on line
103
Strict Standards
: Non-static method Cache::key() should not be called statically in
/home/limarie/public_html/updates/concrete5.4.2.2/concrete/libraries/cache.php
on line
107
Strict Standards
: Non-static method Cache::get() should not be called statically in
/home/limarie/public_html/updates/concrete5.4.2.2/concrete/models/file.php
on line
80
Strict Standards
: Non-static method Cache::key() should not be called statically in
/home/limarie/public_html/updates/concrete5.4.2.2/concrete/libraries/cache.php
on line
117
Strict Standards
: Non-static method Cache::getLibrary() should not be called statically in
/home/limarie/public_html/updates/concrete5.4.2.2/concrete/libraries/cache.php
on line
121
Strict Standards
: Non-static method Cache::key() should not be called statically in
/home/limarie/public_html/updates/concrete5.4.2.2/concrete/libraries/cache.php
on line
137
Strict Standards
: Non-static method File::getByID() should not be called statically in
/home/limarie/public_html/updates/concrete5.4.2.2/concrete/models/file.php
on line
85
Strict Standards
: Non-static method Cache::get() should not be called statically in
/home/limarie/public_html/updates/concrete5.4.2.2/concrete/models/file.php
on line
17
Strict Standards
: Non-static method Cache::key() should not be called statically in
/home/limarie/public_html/updates/concrete5.4.2.2/concrete/libraries/cache.php
on line
117
Strict Standards
: Non-static method Cache::key() should not be called statically in
/home/limarie/public_html/updates/concrete5.4.2.2/concrete/libraries/cache.php
on line
118
Strict Standards
: Non-static method Cache::set() should not be called statically in
/home/limarie/public_html/updates/concrete5.4.2.2/concrete/models/file.php
on line
88
Strict Standards
: Non-static method Cache::key() should not be called statically in
/home/limarie/public_html/updates/concrete5.4.2.2/concrete/libraries/cache.php
on line
101
Strict Standards
: Non-static method Cache::getLibrary() should not be called statically in
/home/limarie/public_html/updates/concrete5.4.2.2/concrete/libraries/cache.php
on line
103
Strict Standards
: Non-static method Cache::key() should not be called statically in
/home/limarie/public_html/updates/concrete5.4.2.2/concrete/libraries/cache.php
on line
107
Strict Standards
: Non-static method Cache::get() should not be called statically in
/home/limarie/public_html/updates/concrete5.4.2.2/concrete/models/file.php
on line
80
Strict Standards
: Non-static method Cache::key() should not be called statically in
/home/limarie/public_html/updates/concrete5.4.2.2/concrete/libraries/cache.php
on line
117
Strict Standards
: Non-static method Cache::getLibrary() should not be called statically in
/home/limarie/public_html/updates/concrete5.4.2.2/concrete/libraries/cache.php
on line
121
Strict Standards
: Non-static method Cache::key() should not be called statically in
/home/limarie/public_html/updates/concrete5.4.2.2/concrete/libraries/cache.php
on line
137
Strict Standards
: Non-static method File::getByID() should not be called statically in
/home/limarie/public_html/updates/concrete5.4.2.2/concrete/models/file.php
on line
85
Strict Standards
: Non-static method Cache::get() should not be called statically in
/home/limarie/public_html/updates/concrete5.4.2.2/concrete/models/file.php
on line
17
Strict Standards
: Non-static method Cache::key() should not be called statically in
/home/limarie/public_html/updates/concrete5.4.2.2/concrete/libraries/cache.php
on line
117
Strict Standards
: Non-static method Cache::key() should not be called statically in
/home/limarie/public_html/updates/concrete5.4.2.2/concrete/libraries/cache.php
on line
118
Strict Standards
: Non-static method Cache::set() should not be called statically in
/home/limarie/public_html/updates/concrete5.4.2.2/concrete/models/file.php
on line
88
Strict Standards
: Non-static method Cache::key() should not be called statically in
/home/limarie/public_html/updates/concrete5.4.2.2/concrete/libraries/cache.php
on line
101
Strict Standards
: Non-static method Cache::getLibrary() should not be called statically in
/home/limarie/public_html/updates/concrete5.4.2.2/concrete/libraries/cache.php
on line
103
Strict Standards
: Non-static method Cache::key() should not be called statically in
/home/limarie/public_html/updates/concrete5.4.2.2/concrete/libraries/cache.php
on line
107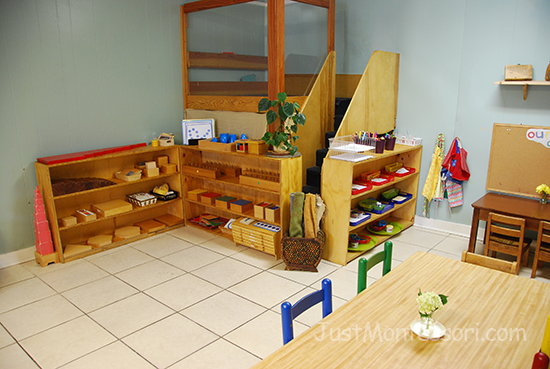 Sensorial and Art Shelves
Practical Life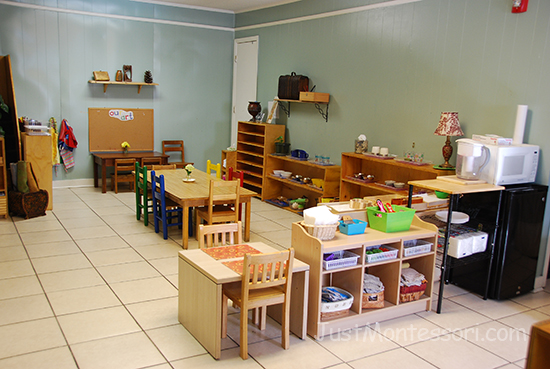 Practical Life(with water work shelf) / Art / Snack Table / Cleaning Materials Shelf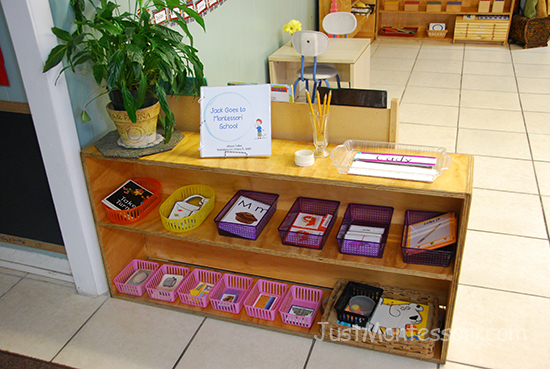 Pre-Language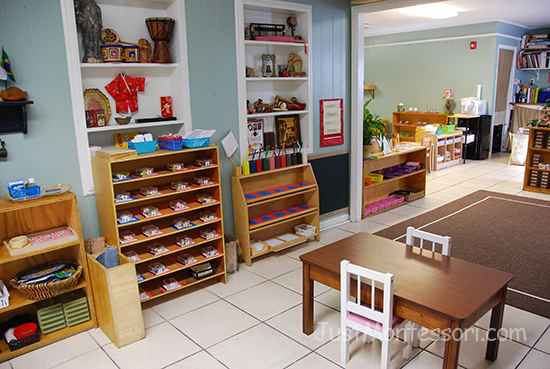 Language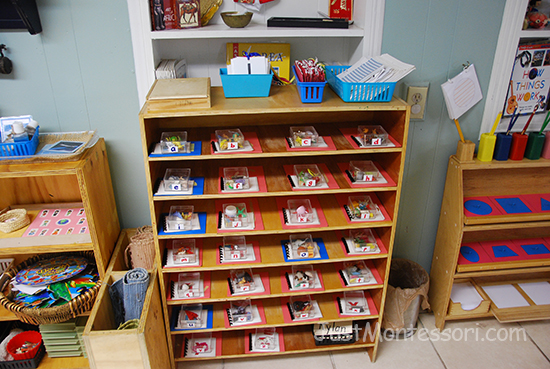 Sound Table Materials Shelf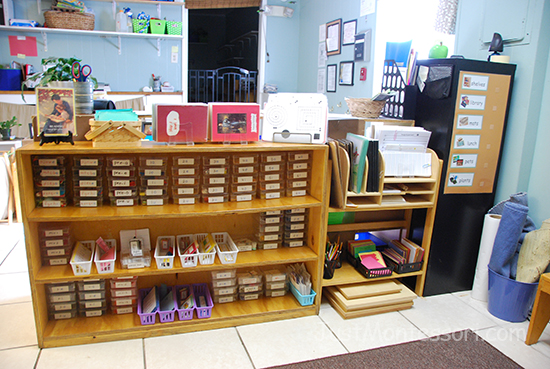 Reading Program and Writing Shelf
At this time, I only set up part of my Reading Program materials. This is what would be considered Three Letter (pink) and Four letter (blue). I did place some phongram boxes and card sets out as well, but not all (green).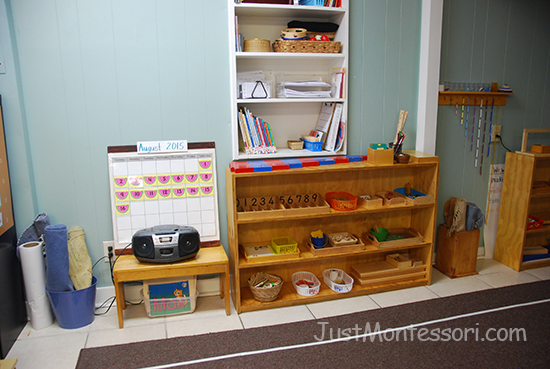 Math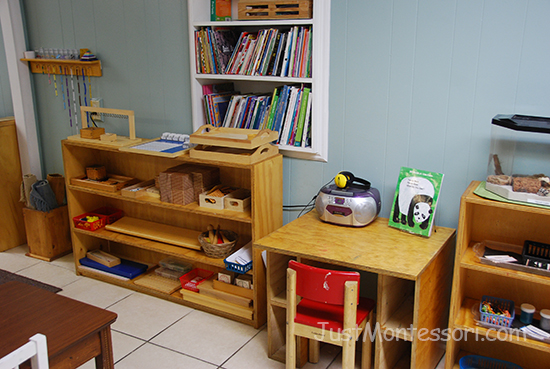 Math (Fraction Frames are being repaired, so the stand for them is empty right now)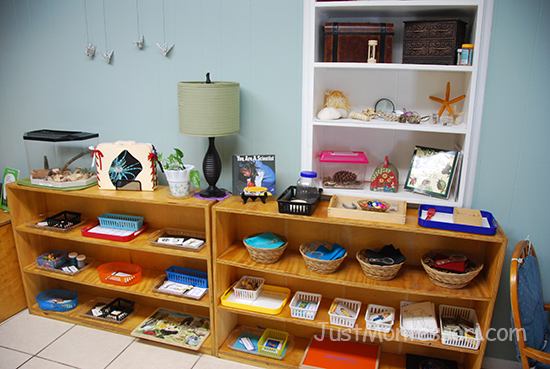 Zoology and Science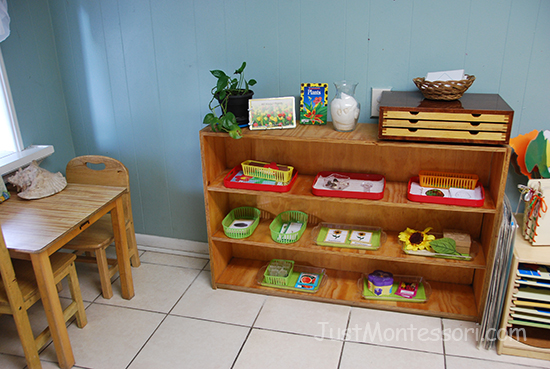 Botany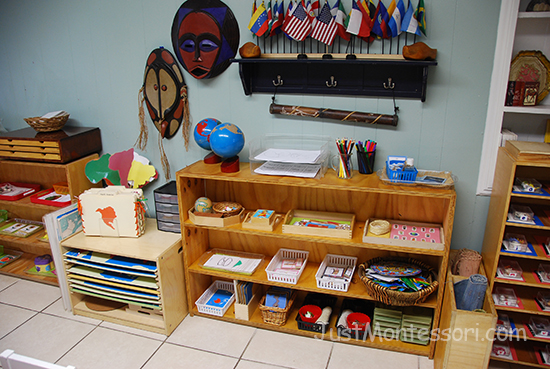 Geography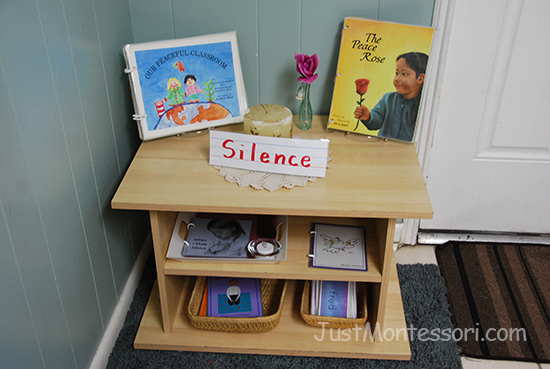 Peace Corner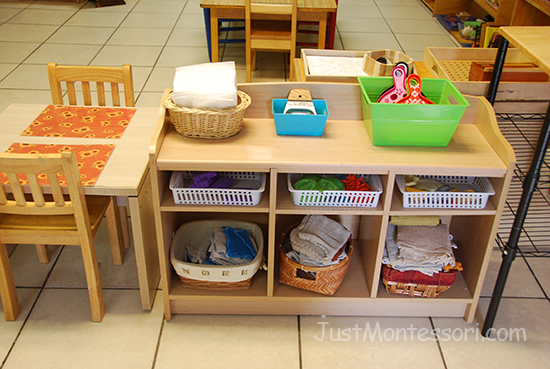 Cleaning / Resource Area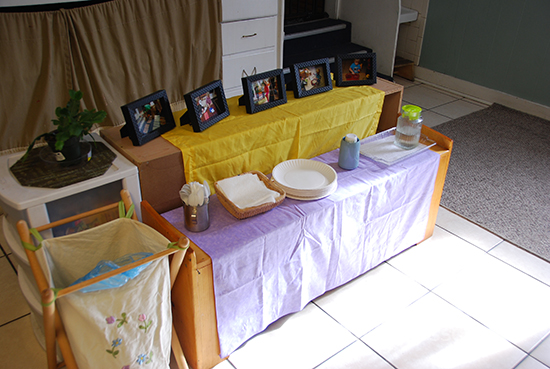 Snack/Lunch Supplies
Behind the shelf Iike having frames with pictures of the children that I change out regualrly. The only area not shown is the Library. It came out blurry. It sits behind the Pre-Language shelf facing the Senscorail area.