We've updated our PDF ordering page to be even easier. You can now order the entire 40 weeks of the curriculum in one purchase.
Click here to order the curriculum.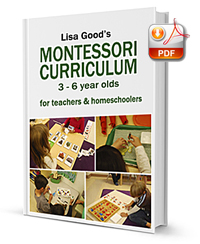 ---
"Love...love...love your website. Thank you for your valiant dedication and effort to the Montessori Curriculum...it is greatly appreciated!" - Ms. Judi
"I just wanted to thank you for this incredible website that you have put together. Since having my son 2 years ago I've done so much research on the montessori method and how to apply it in my home, and there so much information online its just gets to be so overwhelming that you really don't know where to start. Ive been looking for a website like this for such a long time, and I've finally found it. So again THANK YOU for doing this, the way you explain and present all the information is so clear and easy to understand, really great work :)" - Anna
"I enjoyed reviewing your Montessori curriculum online, but didn't always have an Internet connection. I am so happy you made a PDF version available since I can use it on my Android tablet in the classroom! Can't wait for the printed book! Thanks so much for your hard work. I love it!" - Atoinette
I wanted to thank you for your website. I trained and am certified AMS Primary but haven't taught in a Montessori classroom in over 10 years. I signed my contract today to be lead teacher in a bilingual montessori classroom and am feeling a bit overwhelmed. But your well organized review of the classroom shelves and curriculum has been an excellent review of what I know and love about Montessori. And your cultural studies units will be an integral part of my classroom. Thank you! - Katie
---
Notice! Navigation on curriculum pages is messing up. Go to Curriculum Calendar for accurate view.

My Montessori Cultural Curriculum

If you are a Montessori teacher, homeschool mom, or anyone who is interested in Montessori, you can use my curriculum for your school, academy or... whatever. I am working on a printed curriculum book, until it is finished, I will provide the website for free! See above for current PDF versions available.
Be sure to check the Freebies section, as I provide free downloads in PDF format of materials.
Also, be sure to keep up with my blog and twitter account since I will provide updates there on what's going on here.
Enjoy! If you have questions, please fill out the form below, or contact me through the Contact Page link at the top of each page.
---
What a clever and fun video describing the Montessori approach to teaching. At the very least you will enjoy the incredible way it is illustrated. Enjoy!
You must install Adobe Flash to view this content.
My Montessori Page Quick Links
---
Language | Sensorial | Practical Life | Math | Cultural | Curriculum (Calendar) | Blog